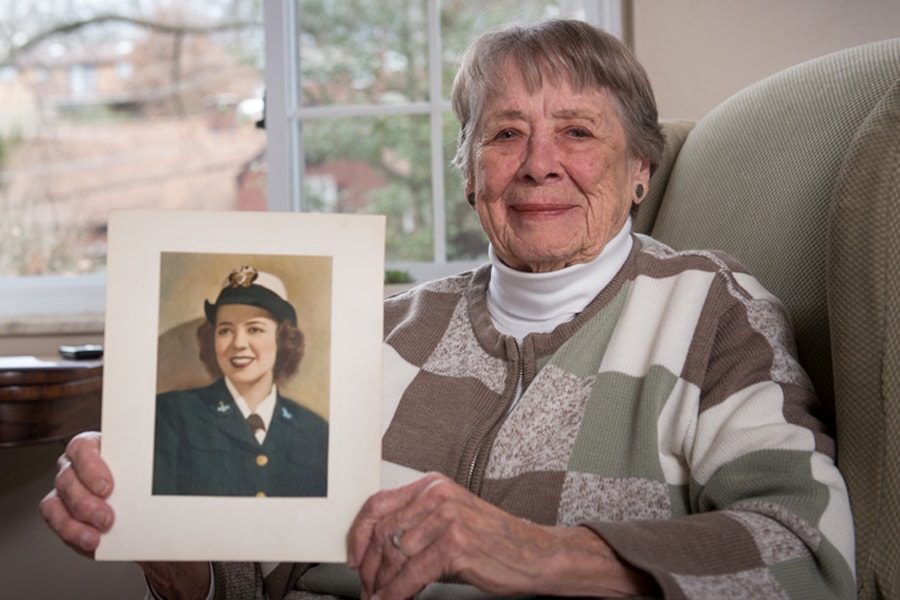 April 05, 2018
Alumna Recalls Secret, "Fascinating" Career as WWII Codebreaker
By Shannon Riffe sriffe(through)andrew.cmu.edu
Media Inquiries
Julia Parsons remembers exactly where she was on Sunday, Dec. 7, 1941. The Carnegie Institute of Technology (now Carnegie Mellon University) student was driving along Ardmore Boulevard, near her parents' Forest Hills home, on her way to deliver a birthday present to a friend when she heard the news on the car radio.
"And I thought, 'Where the heck is Pearl Harbor?'" said Parsons, a 1942 general studies graduate of Margaret Morrison Carnegie College. "I had never even heard of Pearl Harbor. And it never dawned on me how it would change our lives so completely, but, of course, it did."
The surprise attack on the Hawaiian naval base drove the United States into World War II. It also propelled Parsons into a job with the U.S. Navy as a codebreaker, which she recently discussed with Assistant Archivist Kate Barbera for the University Archives' Oral History Program.
Even her April 1942 graduation from Carnegie Tech was impacted.
"They pushed us ahead a month because the Army wanted our ROTC men," Parsons said. "And so they eliminated our final exams that year."
The ceremony was notable not just for its early date, it also was a family affair. Her sister, Louise Potter, received her master's degree in social work from Margaret Morrison. It also marked the final Carnegie Tech commencement for their father, Howard G. Potter, who retired from his position as an instructor in the Machine Shop.
After graduation, Parsons worked in an Army ordnance laboratory, checking gauges used to measure the shells and ammunition that the local steel mills were creating. The experience brought her inside the mills, where she saw real-life Rosie the Riveters at work.
"They looked just like the picture. The bandana, they did a good job," Parsons said. "It was fascinating because I always wanted to see inside a steel mill."
A few months later, she trained at Smith College for the Naval Reserve program for women, also known as WAVES (Women Accepted for Volunteer Emergency Service), studying ships, naval history, physics and teletype training before receiving her assignment in Washington, D.C.
"Someone came in and asked if anybody had taken German, and I raised my hand. I said I had a couple of years in high school," Parsons said. "So, I was sent immediately to the German section, and that's where I spent the rest of my Navy career."
In D.C., Parsons worked with other WAVES to track, transcribe and attempt to solve coded messages sent to and from German submarines. During the war, the Germans used Enigma machines to encrypt their communications, allowing them to relay messages that couldn't be deciphered by Allied Forces.
"We got messages, dozens of them day after day, and we put them all into a chart," Parsons said. "It was like a puzzle, your very own Sudoku."
The work was often frustrating and the codes changed frequently. A routine weather report offered the biggest break.
"The Germans had gotten careless," Parsons said. "They didn't bother to recode like they should have done and they worded the message every night the same way, 'The weather in the Bay of Biscay until Sunday, Monday, Tuesday, whatever day, will be...' And that was enough to break the traffic."
After the war, Parsons travelled with her husband, spending time in London, eastern Europe, Japan and Pittsburgh, where she was a high school English teacher. None of her family members, including her husband, knew the details of her work with the Enigma machines until she told them in the 1990s, 30 years after her work was declassified.
"I had a really fascinating life. I really had no regrets," she said.