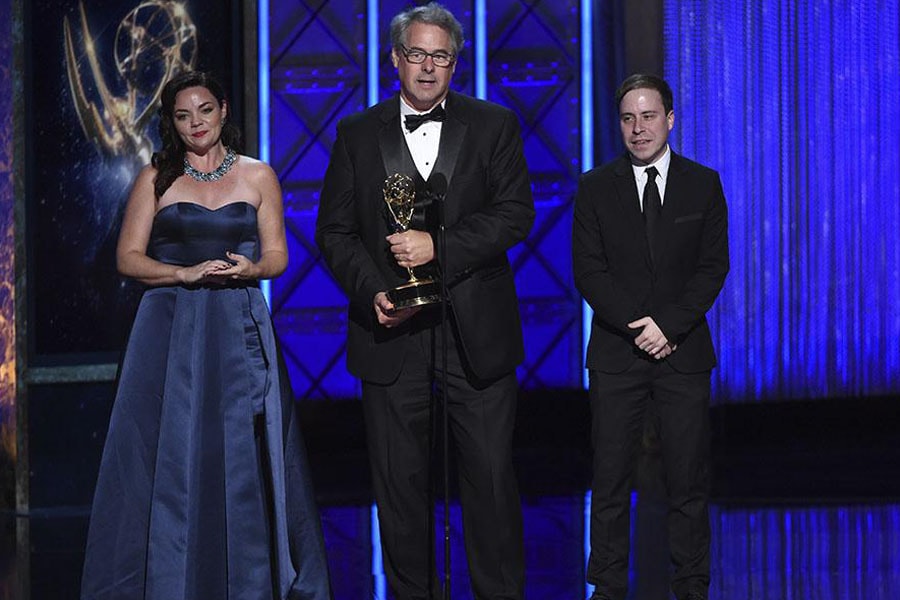 September 15, 2017
CMU Alumni Win Emmys for Production Design
By Nick Ducassi
Media Inquiries
Carnegie Mellon University alumni Andrew Leitch and Eugene Lee earned television's top prize in production design at the 2017 Creative Arts Emmy Awards, Sept. 10.
In all, 14 CMU alumni garnered 17 nominations for eight Emmy Awards. The Television Academy's 69th Emmy Awards will air live at 8 p.m. Sunday, Sept. 17 on CBS from the Microsoft Theatre in Los Angeles. Stephen Colbert will serve as host.
Of the alumni nominated, 13 hail from the design and production area of CMU's School of Drama, including scenic, costume and lighting designers. Judith Light, a 1970 graduate, was nominated for "Outstanding Supporting Actress in a Comedy Series" for her work playing Shelley Pfefferman on the Amazon Prime series "Transparent." It is her fifth overall Emmy nomination and second nod for supporting actress in a comedy series. That award will be presented on Sunday.
Lee, a production designer and 1975 alumnus, won his second Emmy for Outstanding Production Design for a Variety, Nonfiction, Reality or Reality-Competition Series for NBC's "Saturday Night Live."
Leitch, a 2012 graduate, won his first Emmy as part of a team for designing sets for the sixth season of HBO's political satire "Veep." The team won in the Outstanding Production Design for a Narrative Program (Half-Hour of Less) category.
"Our entire crew is very excited and humbled by the whole experience," Leitch said. "We have one of the best crews in the business that takes great pride in their work, and they put in some really long hours to accomplish what we throw at them."
Leitch joined "Veep" in its fifth season. The show follows fictional Vice President Selina Meyer (Julia Louis-Dreyfus) on her journeys in and out of the White House. Leitch said his work on the sixth season explored Meyer's post-White House life.
"We created all new sets for our characters," Leitch said. "Previous years had been very centered around the White House, and while that presented its own set of challenges, it was really exciting to create new environments. We did a New York Brownstone, some offices in the Bronx, a CBS News set and also built some sets around the U.S. Capitol in D.C."
Leitch worked on "Veep" with CMU alumni Arthur Chadwick and Rebecca McAusland, who graduated in 1997 and 2009, respectively. He said it is a common occurrence to work with fellow CMU alumni.
"My first job in L.A. was on 'Dexter' working with an art department of mostly CMU folks. Jessica Kender [a 1997 CMU alumnus], the production designer, runs a great department, and not only was it super fun, it gave me a ton of insight as to how art departments run efficiently."
Leitch calls the School of Drama's design showcase, which takes students in the design fields to New York and Los Angeles during their senior year, "a great opportunity to meet people." He credited his training with helping launch his design career. Richard Block, associate head of the School of Drama, said Leitch was always a strong student who has continued to grow as an artist.
"Andrew has always been strong in his creative abilities," Block said. "And he is an extremely generous soul as well, willing to help new grads as well as current students."
Now in a position to pay it forward, Leitch said "the CMU education automatically puts them a step above in my mind, since I know the rigorous pace of the program."
Leitch and the "Veep" team are now a few weeks into working on the show's seventh and final season. "We have a lot of exciting things in the works," he said.
Carnegie Mellon alumni and faculty have received more than 100 Emmy Awards to date.