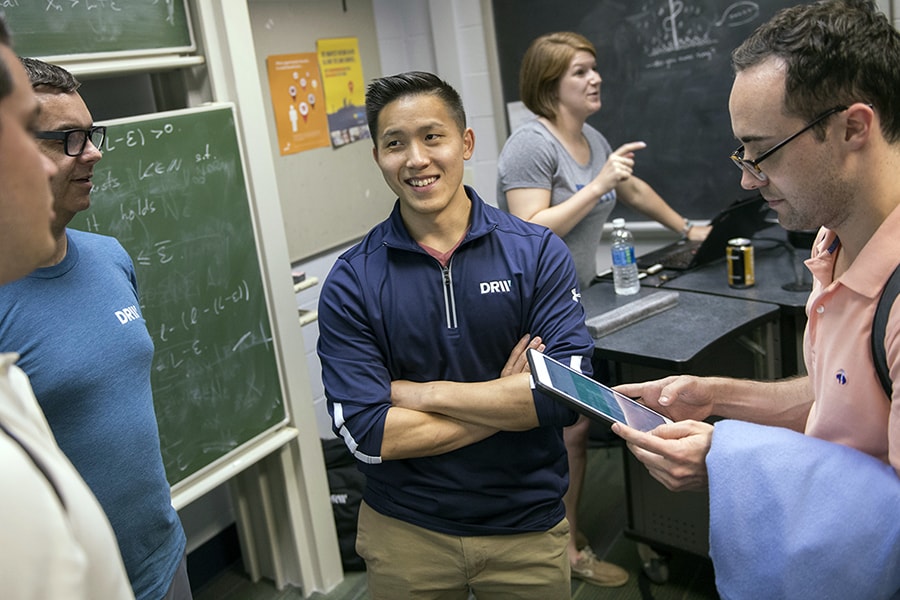 October 09, 2017
From Recruit to Recruiter, Alumnus Returns To Help Students Find Jobs
When DRW, a global principal trading firm based in Chicago, came to recruit at Carnegie Mellon University, the recruiting team included a familiar face.
CMU alumnus Alex Xiao is a trading analyst at the firm and offered students insights into his role in an information session.
"As a student, there's so much to learn and your time is so preoccupied with classes that when someone is here on campus and you get to meet them, talk to them face to face, develop a relationship, that helps a lot," Xiao said.
As a student in CMU's Masters of Science and Computational Finance program, Xiao attended a 2015 DRW recruiting session on campus with eight other students.
This time, with Xiao as a recruiter, students filled every seat in a Porter Hall classroom; a dozen other students sat on the floor or stood in the doorway to hear Xiao discuss his career path.
As a trading analyst, he said, "I help the desk trade better, which involves doing systematic research, evaluating market data and finding ways we can trade and profit off that."
It is not a job he envisioned for himself a decade ago when he was an undergraduate physics major at the University of California, Berkeley.
"A lot of my classmates went off to be Ph.D.s, but I didn't really like the idea of potentially working on a project for 20 years, trying to launch a satellite, for example, and having to ask NASA for $100 million to launch the satellite," he said. "That, to me, is noble. But I wanted something with a little bit of a faster pace, something more dynamic."
He said he enrolled at CMU because of its reputation for delivering a world-class education.
"The classes I had were perfect for what I do now," he said.
During the 2016-2017 academic year, recruiters conducted nearly 7,000 on-campus interviews with CMU students, posted more than 14,000 jobs and over 5,900 internships. More than 500 unique employers recruited on-campus via job fairs, interviews and internship showcases.

"We value the information and insights students gain when engaging with companies who come to CMU's campus," said Kevin Monahan, associate dean of Student Affairs for Career and Professional Development. "Having access to a variety of organizations gives CMU students an edge when discerning their post-graduation plans. A CMU education provides students with the tools to go out into the world and be a force for good in the workplace."
In the past three years, nearly 20 percent of all DRW hires from colleges and universities have come from CMU, said Lauren East, university talent acquisition lead at DRW.
"CMU has a nice range of students that are really interested in trading and finance but also have great computer science skills," East said. "Not only is the undergrad program really strong in finance and math and computer science, but the Masters of Science and Computational Finance program is also outstanding. We've found many students from that program and Alex is a good example. CMU has really become a hotbed, not only for tech firms, but also trading firms."
During his visit, Xiao urged students to take thorough notes because doing so will help them pass their classes, and the knowledge they retain will prepare them for the future.
He also advised students to take advantage of recruitment sessions, which is a vital part of CMU's efforts to help students find jobs after graduation.
"We're competing with the Facebooks and Googles of the world for developer talent, and we know they're going to be at CMU," he said. "That's why year after year companies like DRW keep coming here."