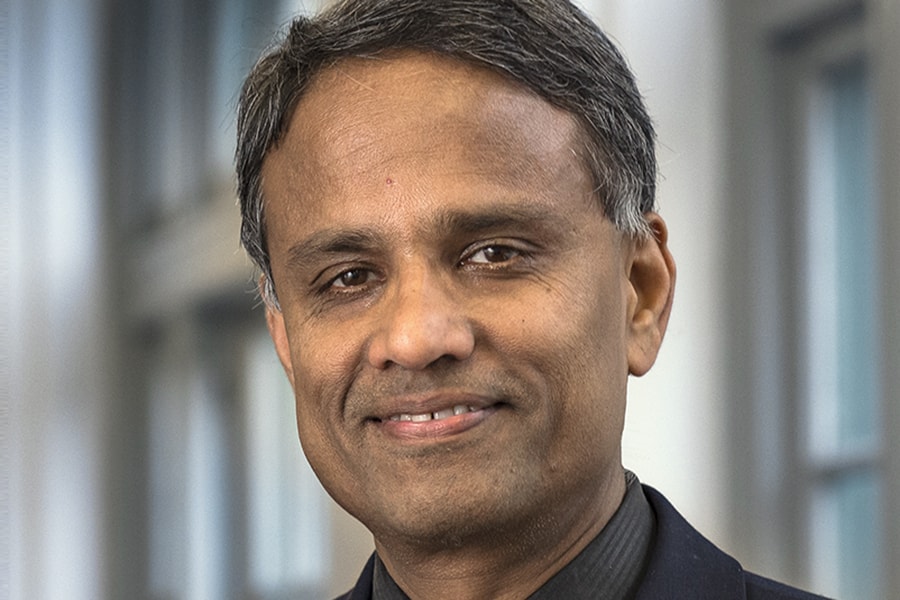 October 13, 2017
Krishnan Elected to Top Leadership Spot at INFORMS
By Shryansh Mehta shryansh(through)andrew.cmu.edu
Media Inquiries
Shryansh Mehta
Heinz College of Information Systems and Public Policy
INFORMS, the leading international association for operations research and analytics professionals, announced today that Ramayya Krishnan, Ph.D., dean of Carnegie Mellon University's Heinz College of Information Systems and Public Policy, has been elected as the 25th President of the INFORMS Board of Directors.
Krishnan will begin serving his three-year term on the INFORMS Board of Directors in January 2018 as president-elect, transitioning to president in January 2019 for a one-year term.
A faculty member at Carnegie Mellon since 1988, Krishnan is the W.W. Cooper and Ruth F. Cooper Professor of Management Science and Information Systems with appointments at Heinz College and the Department of Engineering and Public Policy. He was appointed dean of Heinz College in 2009 and reappointed in 2014.
"I am truly honored to have been selected by my fellow INFORMS members to serve as their president," Krishnan said. "INFORMS members have a rich history of pioneering and innovating the fields of operations research and analytics. The work of my colleagues has saved lives around the world, helped businesses and governments become more efficient, helped keep people safer, and so much more. Today, our capacity to combine analytic and information technology is enabling our fields to reach new heights, solve new problems, and touch more lives than ever before.
"This is truly an exciting time, and I look forward to helping INFORMS bring even greater recognition to the amazing contributions of our members."
During his term, Krishnan will work closely with the INFORMS Board of Directors and staff to build deeper partnerships between academia, industry and government, with the goal of facilitating greater research, development and deployment in the fields of operations research, analytics and the management sciences.
"Dean Krishnan has built on Carnegie Mellon's tradition of deep expertise in operations research, management science and analytics, both in his own scholarly research and in his leadership of Heinz College," said Farnam Jahanian, interim president of Carnegie Mellon. "This well-deserved honor further strengthens the connections between the university and the INFORMS community, whose past presidents include four other CMU faculty."
Previous INFORMS presidents from Carnegie Mellon include founding president William Cooper (1954), Richard Cyert (1972-73), Alfred Blumstein (1987-88; 1996) and Michael Trick (2002). 
"We are excited that Dr. Krishnan will be joining the INFORMS Board of Directors as President-elect," said Brian Denton, 2017 president of INFORMS and a professor in the Department of Industrial and Operations Engineering at the University of Michigan. "His insights and perspectives will add a new and important dimension to INFORMS over the next three years as we strive to meet the evolving needs of O.R. and Analytics professionals around the world, and to better assist organizations as they use O.R. and analytics to transform data into information, and information into insights for making better decisions and improving results."
Krishnan has served INFORMS in a wide array of roles over the years, including as an editor of the INFORMS journals Interfaces, Information Systems Research, Management Science, and the Journal on Computing. He has held leadership roles for several INFORMS societies, including the INFORMS Computing Society and the INFORMS Information Systems Society. Krishnan is an INFORMS Fellow and a recipient of the INFORMS Information Systems Society's Distinguished Scholar Award. Under his leadership, Heinz College won the INFORMS UPS George D. Smith Prize in 2016.
In addition to his roles with INFORMS and CMU, Krishnan previously served on the World Economic Forum's Global Agenda Council on Data-Driven Development and presented an ideaslab on data analytics. His government service includes work as a STEM expert with the State Department as well as ongoing service on the IT and Operations Advisory Board of Pennsylvania Governor Tom Wolf. He received the 2015 Nayudamma Award for contributions to business technology and telecommunications, and the 2017 distinguished alumnus award from the Indian Institute of Technology, Madras.