May 03, 2017
Contest Connects Students, Lifts Spirits
By Ann Lyon Ritchie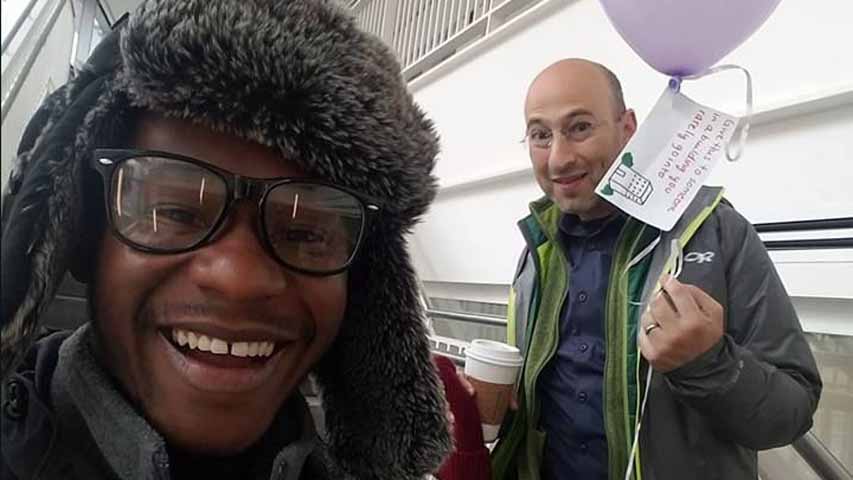 One hundred balloons recently helped float the idea of random acts of kindness at Carnegie Mellon University.
Students from the Asian Student Association and SPIRIT handed out the balloons with instructions on clothespins suggested that recipients pass them along to someone with a smile or "someone in a building you normally don't go into."
"Our goal for this project was to provide a catalyst for people to break out of their comfort zones to talk to more people they normally would not talk to, and to bring positivity to others with a kind message and a balloon," said SPIRIT's Vanessa Kalu, a senior majoring in business administration and human-computer interaction, and Asian Student Association's Jason Deng, a sophomore mechanical engineering major.
The concept won the two organizations first place and $1,000 to share in the 2-4-1k Grand Challenge, a weeklong competition that paired a multicultural student organization with another club or team.
Seven teams of 14 student organizations participated in the university-wide competition funded by a ProSEED/Crosswalk grant. Chrystal Thomas, a senior majoring in biological sciences, established the 2-4-1k Grand Challenge in 2016 through Colors@CMU.
"With the campus being home to many different organizations, we wanted to create a program that would promote collaboration between them, in a way that would be fun," said Thomas, who will be this year's student speaker at commencement, May 21.
CMU Plaid Dog Divers and the Tepper Black Business Association won second place and a $400 award for their Postcards for the Children project. Students engaged the campus community in writing 246 cards with words of encouragement for children in war-torn Syria. The Arab Student Organization translated the messages into Arabic.
A third team earned an honorable mention and a $200 special category award for reflecting the identities of both organizations. Camp Kesem, a group giving free summer camp to children of parents with cancer, and CMU Bhangra, a competitive Indian folk dance troop, hosted a field day for students to compete in games to win prizes.
"CMU needs events like the 2-4-1k Challenge because it can be used as a platform for students from all backgrounds to connect for causes that everyone can relate to," said Jassum Gloster, a graduate student who participated with the Tepper Black Business Association. "This challenge allowed all of us to connect and gave a way for people to give back."