May 03, 2017
Students Create Art Installations Hidden in Plain View
By
Heidi Opdyke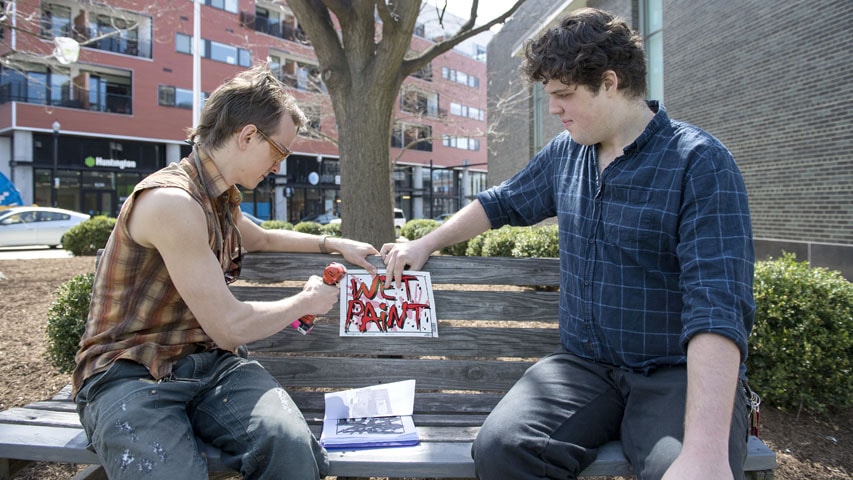 Graduate student Davey Steinman and Drama senior Joe Mertz sit on The Conversation Bench, a project created for a School of Drama Class called "Mediated Reality."
Dramatic experiences can happen anywhere. Students in Lawrence Shea's class are using Pittsburgh's East Liberty neighborhood as their studio.
"We really want to think about how we can curate people's daily activities through experiential theatre," said Shea, an associate professor in Carnegie Mellon University's School of Drama who is teaching a course titled "Mediated Reality."
The class is working on an iOS app that they hope to have available in future to showcase East Liberty's past and provide conversation starters to help users interact with people they meet.
Some of the installations include a mural that triggers music from musicians with Pittsburgh ties, a photograph that prompts a video of Franco Harris' "Immaculate Reception" and information about the nickelodeon theatres that used to contribute to street life in the city.
"It's really about the contemporary concept of space," Shea said. "Digital technology puts us in a non-place. With this project, you have to be in a place to experience it.  And then there's the chance that someone might walk by and ask what you're doing. And that could create a conversation with a real human being."
The projects are hidden in plain site, such as a façade of a building that when viewed through an iPhone or iPad uncovers a billboard that once existed.
"There's a map that's visible inside the app as you start it up," said Sylvie Sherman, who designed the backend system for the course using the Unity game engine as a platform for the projects. Sherman is a graduate student in the School of Drama's video and media design program and earned a bachelor's degree in computer science and arts from CMU in 2012.
Davey Steinman's project, "Conversation Bench," chronicles the repairs of a bench at the corner Broad Street and Larimar Avenue through photos and relays information about how the neighborhood's use of energy and building materials have changed over time.
"It's not just about the past, but also about the current social fabric of the neighborhood," said Steinman, also a graduate student in video and media design program. "I really appreciate that the program does not just limit theater to the stage because design fits into a larger framework."
Jessica Medenbach echoed the sentiment. Her project uses an existing mural at 6123 Penn Ave. created by Citiparks. If the app is aimed at certain figures in the image, a floating gramophone appears and music from musicians, such as Billy Strayhorn, Gene Kelly and the East Liberty Boys Choir will play.
"I didn't want to make something where people just stare at their phones," Medenbach said. "I wanted to engage with them and the community and to use the devices as a portal for education."
Shea has worked on other augmented reality projects. With The Builders Association in New York City, he created an app for the company's show "Elements of Oz." Audience members are encouraged to use their smartphones during the performance for interactive experiences like flying monkeys and to see a transparent layer of poppy fields.
This is the second time Shea has taught Mediated Reality, which was first offered in 2015. His work is part of the three-year initiative by CMU's Center for the Arts in Society, focusing on the theme "Performance."
In addition to the course, Shea is working on a project called "Ghosts in the Machine" that explores the complicated relationships between technological development, labor history and population migration that create Pittsburgh's contemporary landscape. Working with students from the previous two classes, Shea is working to create mediated live performance events at relevant locations across the city using a new smartphone-based app.
"The goal is to bring together small local sites so that people can learn more about the city," he said.