June 05, 2017
2017 Excellence in Theatre Education Award Winner Inspires Students in Oregon
Carnegie Mellon University and the Tony Awards Recognize Rachel Harry of Hood River, Oregon
By Pam Wigley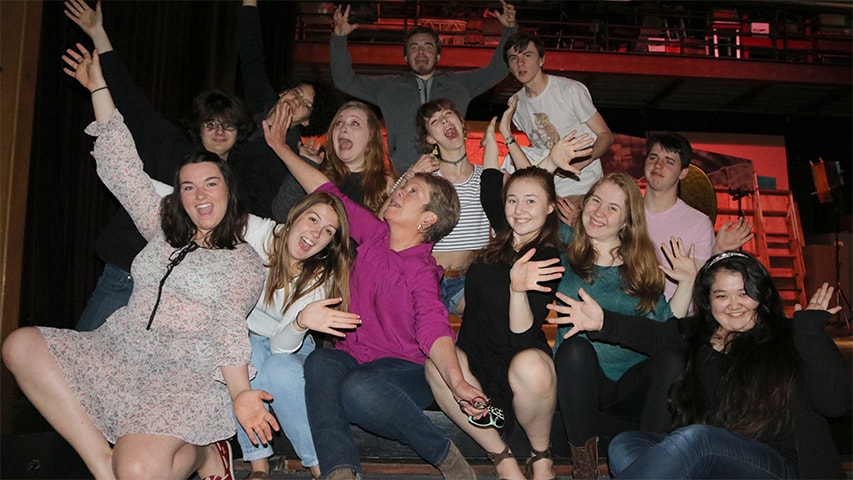 Students from Hood River Valley High School helped teacher Rachel Harry of Hood River, Oregon, celebrate her win as this year's Excellence in Theatre Education Award winner. 
The Tony Awards and Carnegie Mellon University have announced that Rachel Harry of Hood River, Oregon, has been named the third recipient of the Excellence in Theatre Education Award. Carnegie Mellon, the exclusive higher education partner of the Tony Awards, will present the award to Harry, a drama teacher at Hood River Valley High School, at the 71st Annual Tony Awards on Sunday, June 11, at Radio City Music Hall in New York City. 

The Excellence in Theatre Education Award recognizes a K-12 theatre educator in the U.S. who has demonstrated monumental impact on the lives of students and who embodies the highest standards of the profession. A panel of judges from the American Theatre Wing, The Broadway League, Carnegie Mellon and other leaders from the theatre industry selected Harry from finalists across the nation. Harry will receive $10,000 for her theatre program, round-trip airfare and hotel accommodations for her and a guest to New York City, and tickets to the Tony Awards and Gala.
Harry has been teaching students theater at Hood River Valley High School for 30 years. She built the program and created performances that frequently sell out at the high school and a larger middle school theater with 1,100 seats. Among students and colleagues, she is known by her nickname, "Krum."
"I feel strongly that my teaching should be student-driven. I want my students to explore and to reach and to fail, because all of those things — especially failure — will lead to new avenues of learning. And that makes for better people, more well-rounded people, whether you go into the theater business or not," said Harry, who was an honorable mention choice for the award in 2016.
"Rachel is an inspiration not only to her current students, but also to the alumni she continues to follow as they go out into the world. Her colleagues admire her for her selfless nature and for her work with her students. She is preparing well-rounded, responsible citizens for success in whatever fields they choose. She inspired us when we heard her story, and we are honored to present the Excellence in Theatre Education Award to her," said Charlotte St. Martin, president of The Broadway League, and Heather Hitchens, president of the American Theatre Wing.
"One of the best experiences we have as the exclusive higher education partner of the Tony Awards is recognizing teachers, who inspire students every day to go out and make a difference. We think Rachel is an exemplary role model," said Dan J. Martin, dean of Carnegie Mellon's College of Fine Arts.
A former dancer, Harry is a native of northern Wisconsin. She earned her bachelor's degree in English and theatre at the University of Utah; she earned her master's degree in theater production at Central Washington University. In addition to her Hood River teaching position, she is an instructor at Columbia Gorge Community College. Her philosophy on teaching, she said, is that her students must be given the ability to fully and actively create their own successes and failures.
She credits her former mentor and high school teacher, Richard Webber, for guiding her toward the path she has taken in her career and life. "Webb opened the door to the possibility of, 'I can try anything.' And that's what I try to pass along to my students," she said.
Harry's arts influence extends to her family. She has two children: Duncan Krummel, 21, a recent magna cum laude music composition graduate of Ithaca College in New York, and Tay Camille Lynne, 25, an Austin, Texas, film student who recently presented a short documentary at South by Southwest.