June 14, 2017
Jahanian Appointed Interim President of Carnegie Mellon University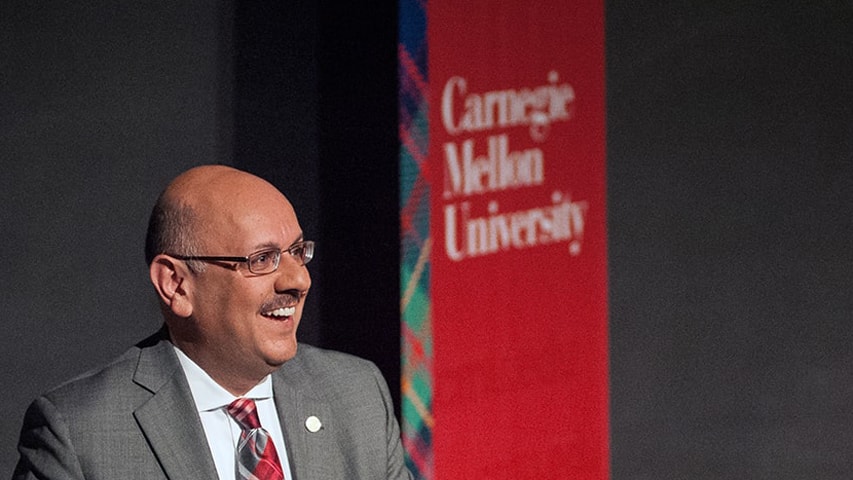 Carnegie Mellon University's Board of Trustees has appointed Farnam Jahanian, currently provost and chief academic officer, to serve as interim president of the university, effective July 1.
James E. Rohr, chair of CMU's Board of Trustees, said Jahanian's appointment would help ensure a seamless transition.
"Dr. Jahanian will bring to this new role a deep understanding of the university's strengths and opportunities, as well as strong, collaborative relationships with the deans, vice presidents and other campus leaders," Rohr said. "He has had an enormous impact at CMU as provost, and I am confident he will provide Carnegie Mellon University with energetic and capable leadership, so we can continue to build on our extraordinary momentum."
A nationally recognized computer scientist, entrepreneur and administrative leader with broad experience in higher education, government and the private sector, Jahanian came to CMU as vice president for research in 2014, and was appointed provost in 2015. As chief academic officer, he has broad responsibility for leading the university's colleges, schools, institutes and campuses, in addition to significant responsibilities for long-range institutional and academic planning, including the university's budgeting, facilities and other critical functions.
During his time as provost, Jahanian has been instrumental in bringing the university's academic budget model into greater alignment with strategic priorities. He has incorporated the concerns, priorities and perspectives of the faculty into his work and appointed a vice provost for faculty to help develop policies and practices that attract, retain and develop diverse, world-class scholars at CMU. Jahanian has played a key role in guiding implementation of the university's strategic plan, including enhancing the CMU Experience for students, faculty, staff and alumni through his role as leader of a campus-wide task force. Well known for his strong engagement with students, he organized several student advisory committees to receive regular student input on concerns facing the university community.
Prior to CMU, Jahanian led the National Science Foundation Directorate for Computer and Information Science and Engineering (CISE) from 2011 to 2014. He guided CISE in its mission to advance scientific discovery and engineering innovation through its support of fundamental research and transformative advances in cyber infrastructure.
Jahanian served on the faculty of the University of Michigan from 1993 to 2014, where he held the Edward S. Davidson Collegiate Professorship in the College of Engineering, and was chair for Computer Science and Engineering from 2007 to 2011. His work on internet routing stability and security led to the formation of Arbor Networks, a network security company he co-founded in 2001. He was chairman of Arbor Networks until its acquisition in 2010.
The author of more than 100 research papers, Jahanian has served on dozens of national advisory boards and continues to be an active advocate for the critical role of basic research in supporting an innovation ecosystem that drives global competitiveness and addresses societal priorities.
"Carnegie Mellon University stands at an extraordinary moment of achievement and potential," Jahanian said. "With our distinctive culture of creative problem-solving and unbounded ambition, this institution will continue to advance human knowledge and the human condition in a way that only CMU can. I look forward to continuing to work with our immensely talented faculty, students and staff to help enrich our global community and shape the university's bright future."
In an email to the university community, Rohr said a global search for a new president would begin this fall. He said in the coming weeks Jahanian would appoint an interim provost to serve as chief academic officer during the transition period.
Related Links: