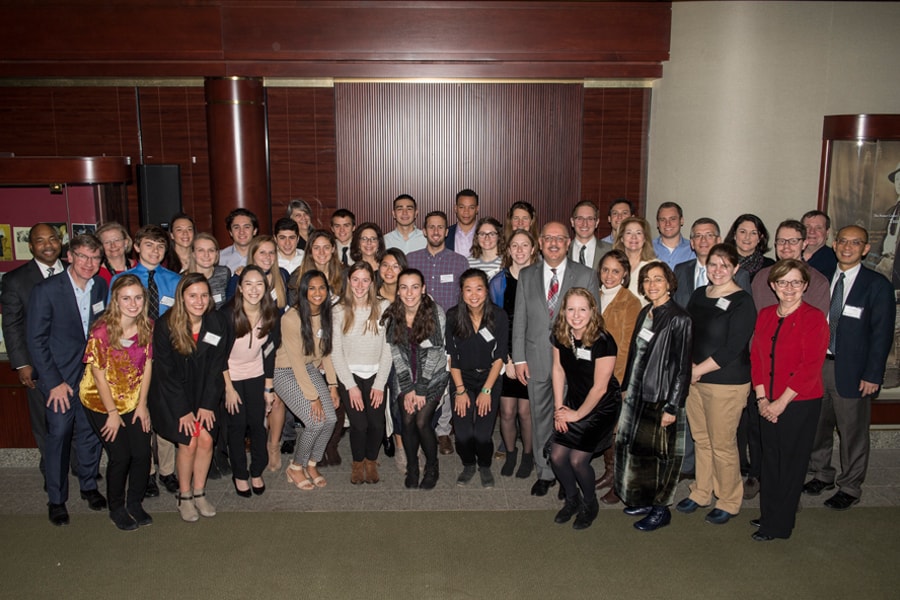 December 15, 2017
Student-Athletes Honored at Fourth Annual Academic Achievement Celebration
By Andrea James awesp(through)andrew.cmu.edu
Commitment, determination and dedication were frequent words spoken during this year's academic achievement celebration hosted by Carnegie Mellon University's Department of Athletics. Twenty-nine student-athletes paused during finals week to celebrate each other and their successes on and off the field.
Carnegie Mellon Interim President Farnam Jahanian said he is often on the sidelines cheering.
"I'm always struck by how impressive our student-athletes are," Jahanian said. "Whether through teamwork that you see on the field, on the court, or in classrooms, in our labs, and in our studios, our student-athletes are working together every day to reach new levels of achievement."
For the fourth year, juniors and seniors were feted who had an average grade-point average (GPA) of 3.72 or better. Of those, five had an average of 3.9 or higher, and three posted a perfect cumulative 4.0.
"The student-athletes invited to this celebration would not be here if they did not make a commitment to excellence upon their arrival to Carnegie Mellon," said Director of Athletics Josh Centor. "While academic success earned them their invitation, it is important to note that among the best students in the classroom are our best athletes."
Centor noted several team and individual accolades and shared that a student-athlete was spearheading a tutoring initiative that will have the Tartans working in a local elementary school almost every day next semester.
Senior men's basketball guard Thomas Cook, a first-generation college student in the Tepper School of Business, shared Jackie Robinson's quote — "A life has no impact except for the impact it has on other lives."
"I think that Carnegie Mellon student-athletes truly embody that, and I hope it continues in the future," Cook said.
Senior swimmer Kim Hochstedler spoke about the effort it takes to strive for greatness. Hochstedler swims the 100- and 200-yard breaststroke and the 200- and 400-yard individual medley.
"Whether it's a difficult practice or a challenging course, we all put our heart and our souls into everything we do here at Carnegie Mellon," said Hochstedler, who is studying psychology and statistics as part of the Science and Humanities Scholar Program. She is also an Andrew Carnegie Scholar. "It's not unusual to see an athlete start a school project weeks in advance or stay a few extra hours in lab, because we all strive for excellence in our academic pursuits. Similarly, it's not unusual to see an athlete stay after practice to stretch or run a few extra drills because we also strive for excellence in our sport."
Cook said the annual fall Student-Athlete Career Networking function is something unique to Carnegie Mellon.
"It's no surprise that every single year we have the most sought after employers come and recruit Carnegie Mellon student-athletes," Cook said. "It's a testament to our excellence and what we've produced and to the Athletics Department."
Cook also spoke about the Tartans' involvement in the community.
Four of CMU's teams have honorary captains from local and national children organizations, such as Friends of Jaclyn Foundation and Team Impact, which aims to improve the quality of life for children facing life-threatening and chronic illnesses by matching them with intercollegiate athletic teams. Through Team Impact, CMU's men's basketball team welcomed Camden Lookabaugh in 2014.
"The relationship we've built with Camden and Team Impact has been more rewarding than any individual accomplishment I've had in the classroom, on the court, or in my early career," Cook said.