September 12, 2016
CMU's Proportion of Undergraduate Women in Computer Science and Engineering Soars Above National Averages
Culture, Personal Approach Makes the Difference in Attracting More Women
While national efforts to encourage women to pursue degrees in key science and technology fields have flagged, Carnegie Mellon University has reached a new high-water mark this year, with women making up nearly half of this year's incoming classes in the School of Computer Science and College of Engineering.
Those totals, between two and three times the national average for their fields, reflect a long-term commitment to purposefully seek out outstanding women and support them during their studies, through the concerted and coordinated efforts of university leaders, faculty advocates and role models, staff and fellow students.
The result, faculty and administrators say, is a self-reinforcing culture that has earned CMU the top spot in recent "Steminist" rankings, and helped build balance between the sexes in fields that have stubbornly resisted the best efforts of higher education leaders and policymakers at the highest level.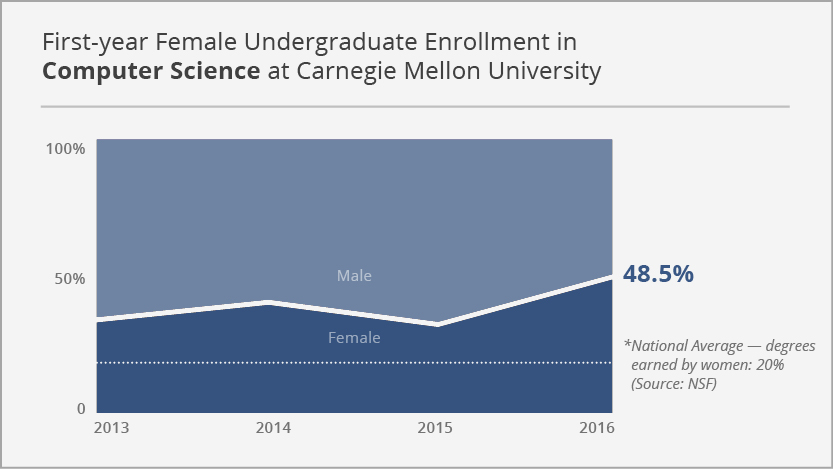 Women make up more than 48 percent of first-year undergraduates this fall in the university's School of Computer Science, setting a new school benchmark. By contrast, according to the Computing Research Association's annual Taulbee Survey, 16.5 percent of undergraduates in 121 computer science programs across the country in 2015 were women.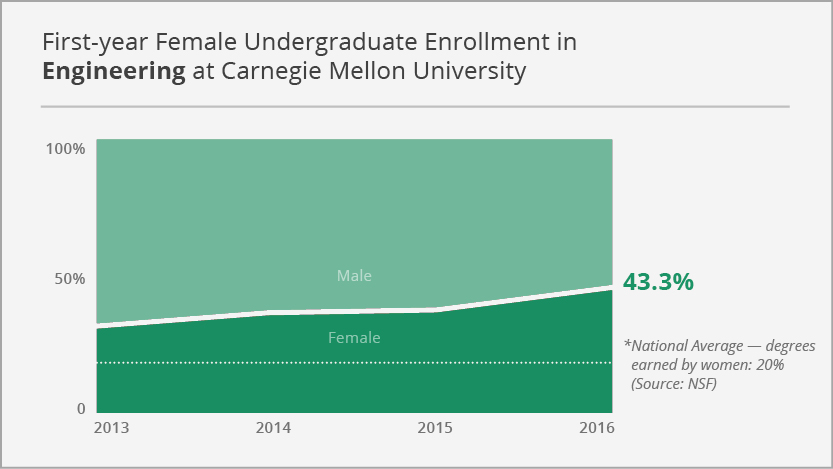 In the College of Engineering, about 43 percent of this fall's first-year undergraduates are women. Nationally, the proportion of women undergraduates in engineering has stalled below 20 percent, according to a 2015 study by the National Science Foundation.
"If the United States is to remain a leader in discovery and innovation, we must engage the enormous talent pool represented by our young women," said CMU President Subra Suresh. "These fields are key to shaping the 21st century, and Carnegie Mellon University's distinctive program offers young women and men the opportunity and environment to make a real difference."
The steady climb of women enrolling in these fields at Carnegie Mellon highlights a combination of factors: a strong commitment by leaders at the university, college and department levels; influential pipeline programs for middle- and high-school students; targeted recruitment; closer scrutiny of applications; support and mentorship programs; and attention to diversifying the faculty.
The increases have occurred as the quality of incoming students continues to rise across the board.
"Even though we've increased enrollment [overall], our admissions have become more competitive," said Guy Blelloch, associate dean for Undergraduate Programs in the School of Computer Science, adding that average SAT scores, grade-point averages and class rank for this year's incoming class were all up.
"What CMU has done over the past two decades is make this effort a priority, advertise it and let people buy into it."
— Jelena Kovačević
Provost and Chief Academic Officer Farnam Jahanian highlighted the unusually close partnership among academic leaders, faculty and admission staff as a key to this success.
"We recognize that cultivating diverse perspectives and promoting inclusion will breed the intellectual vitality essential for the health and progress of our campus community, " Jahanian said. "It is a hands-on, very intensive effort that requires visible and sustained commitment at all levels of the institution."
"It's not magic," said Jelena Kovačević, the Hamerschlag University Professor and head of the Electrical and Computer Engineering Department. "What CMU has done over the past two decades is make this effort a priority, advertise it and let people buy into it."
Kovačević credited the growing numbers of women to a combination of factors, including reaching out to middle schools and high schools, training university tour guides, a holistic view of applicants, promoting an understanding of the societal impact of the fields and working with members of the faculty who serve as role models.
Mera Tegene, an incoming first-year computer science major, chose CMU because she could combine her interests in game design with chemistry.
"I like the fact that CMU's computer science program is very interdisciplinary. I want to go into virtual reality technology, and I feel like we should be going further on the other senses, like smell," she said.
Jennifer Lott, a junior chemical engineering major who has served as a virtual peer adviser for the College of Engineering classes of 2019 and 2020, said she participated in a middle-school program at CMU that influenced her decision to pursue engineering. The application process included an interview by an alumna who followed up with a phone call after Lott was admitted.
"This is the result of two decades of constant focus by faculty, past and present."
— Andrew Moore
"I got my first interest in engineering from a program I did here at Carnegie Mellon when I was in middle school," Lott said. "What was really cool about this past summer was I got to go back and volunteer at that program."
"Parity in numbers, record SAT scores, class rankings and retention!" said Lenore Blum, professor of computer science. "This is an amazing milestone and the happy outcome of CMU taking the leadership role in increasing the participation of women in computer science, particularly in the most rigorous undergraduate computer science program on the planet."
Blum was instrumental in establishing Women@SCS, a faculty-student organization that helps women make connections across the school, and in recognizing that it is the computer science culture, not the curriculum, that needs to change to accommodate women.
Carol Frieze, director of Women@SCS, said research among students at CMU shows women and men have very similar aptitudes and interests in computer science. What women need to succeed in computer science—and which Women@SCS helps to provide—is the same sort of social networking and opportunities that men have often taken for granted, she added.
Jim Garrett, dean of the College of Engineering, said having a better representation of women in the class benefits everybody.
"We seek a diverse student population, balancing for gender and underrepresented minorities," Garrett said. "Not only is this the right thing to do, it is important to have diverse perspectives included to improve the performance and results of engineering processes."
Annette Jacobson, associate dean for Undergraduate Studies in the College of Engineering, said, "One of the reasons we have done well recruiting women is we have an active chapter of the Society of Women Engineers on campus. They often win one of the highest national awards from the Society of Women Engineers in terms of what they do for students on campus, community service, professional activity and mentorship."
That well-rounded approach is an important part of building the right culture, according to Kovačević.
"There's no doubt about the academic rigor of our programs, so our focus has been on calling attention to passion and enthusiasm for the field, and pointing out the potential societal impact," she said.
Faculty leaders also credit an emphasis on collaboration, an approach to problem-solving that women often appreciate, and in which they often excel. In addition to the concerted efforts at the department and college levels, all CMU students are encouraged to work in groups and develop skills they will need to function in workplace teams.
The key, advocates and leaders say, is sustaining that attention and focus on building culture over time.
"This is the result of two decades of constant focus by faculty, past and present," said Andrew Moore, dean of the School of Computer Science. "As one of the four top computer science programs in the country, we feel a serious responsibility to make sure the technology leaders of the future are a diverse group."
"We would not be nearly as successful without the commitment of our deans and department heads," said Michael Steidel, dean of Admission. "It's exciting to know that a strong partnership with computer science and engineering is only the beginning of our success."