September 12, 2016
Ambitious First-Year Picks CMU To Launch Science Career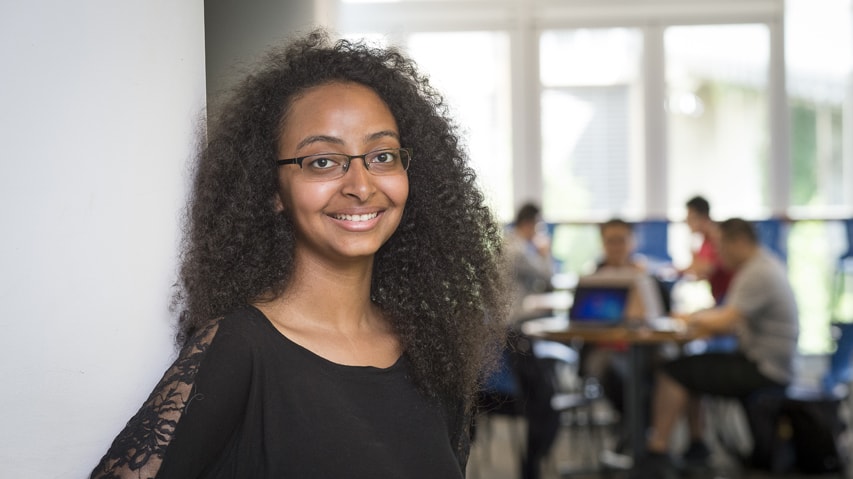 When Mera Tegene envisions her future, she thinks big, with the aim of using chemistry to heighten the senses in virtual reality technology.
The incoming first-year student at Carnegie Mellon University could have pursued that passion at a number of other institutions, but Tegene found an interdisciplinary program in CMU's School of Computer Science that she sees as a launching point for her career ambitions.
Among the schools she was considering, CMU also had the highest percentage of women students, Tegene said. This fall, women make up nearly 48 percent of first-year undergraduates in CMU's School of Computer Science — a new high-water mark for the school at a time when national campaigns to bring more women into science and technology fields are flagging.
"I really like CMU because it was very active in increasing the number of women in STEM," Tegene said, using the acronym for Science, Technology, Engineering and Mathematics. "Other schools are also doing that, but I felt like CMU was actually going forward with it and it was getting closer to reaching its goals. It was incorporating women. It was incorporating minorities.
"They're achieving just like the males or the equally represented groups," Tegene added. "I really liked that, and I felt like this would be a community where I could grow and really achieve what I wanted to do."
University leadership helped draw Tegene to CMU. Helen Wang, adviser to the Charpie Scholars Program, in which Tegene earned a scholarship, listened to Tegene's goals and helped show her how she could achieve them at the university. Andrew Moore, dean of the School of Computer Science, also met with Tegene and talked with her about the opportunities that would be available to her at CMU with respect to her interest in both chemistry and math.
"It seemed like I could achieve great things here," Tegene said. "So that really pushed me to CMU."
Moore said computer science students, like Tegene, who recently arrived on campuses around the world are the people who will be building "the technology which we passionately believe will run the world mid-century."
"We really, really need this built by a full cross-section of the population, not just one specific demographic group," Moore said.
Moore said computer scientists from CMU quickly make an impact when they build startups, conduct research or work in big internet companies, and diversity is an important part of that.
"It's not just because of the computer science we've taught them ... it is because they love working in friendly groups with lots of different backgrounds and ideas," Moore said. "You don't get extreme creativity from groupthink."