May 02, 2016
Aaron Mitchell Named Head of Carnegie Mellon's Department of Biological Sciences
By Jocelyn Duffy / 412-268-9982 /
jhduffy@andrew.cmu.edu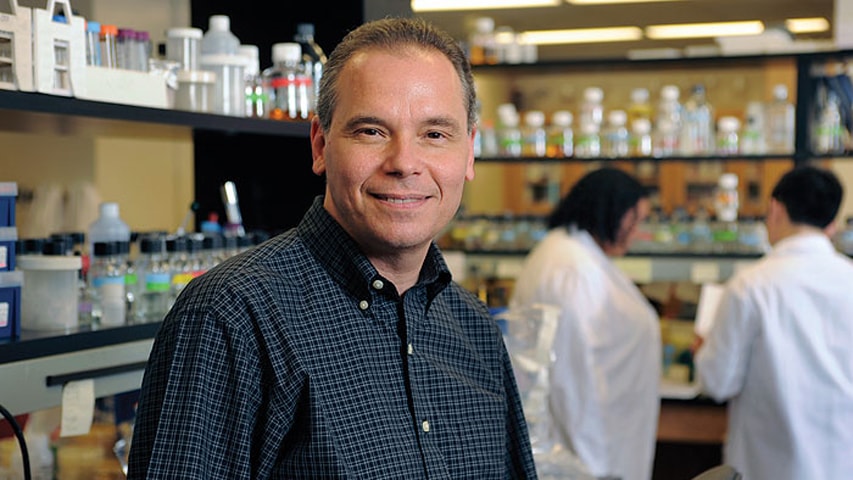 Noted microbiologist, teacher and Carnegie Mellon University alumnus Aaron Mitchell has been named head of the university's Department of Biological Sciences in the Mellon College of Science. Mitchell has been acting head of the department since 2015.
"Since he was a promising undergraduate student some 40 years ago, Carnegie Mellon has always been in Aaron's heart," said Fred Gilman, dean of the Mellon College of Science. "He is the right person to lead the department into what promises to be an exciting future."
Mitchell completed his undergraduate degree in biological sciences at Carnegie Mellon in 1977. He earned his doctoral degree in biology at the Massachusetts Institute of Technology in 1984 and completed a postdoctoral fellowship in biochemistry and biophysics at the University of California, San Francisco in 1987. He joined the faculty of Columbia University's Department of Microbiology, ultimately becoming the Harold S. Ginsberg Professor. In 2008, he left Columbia to return to Carnegie Mellon as a professor in the Department of Biological Sciences.
"It is a unique honor to serve as head of the department that provided the training and inspiration that led me to a career in the biological sciences. I greet my new role with exceptional enthusiasm for the faculty, staff and students of the department; for the exciting vision of President Suresh; and for the alignment of our department's objectives with the new Carnegie Mellon strategic plan," Mitchell said.
Mitchell's research interests focus on the mechanisms by which fungi, particularly the common pathogen Candida albicans, respond to their environment and cause infections. His lab's ultimate goal is to improve therapeutics and diagnostics for C. Albicans infections, which cause more than 400,000 deaths worldwide each year.
Outside of the lab, Mitchell was chair of Biological Sciences' Undergraduate Education Committee and program director of Carnegie Mellon's Howard Hughes Medical Institute (HHMI) Undergraduate Training Program from 2008-2012. He teaches courses in genetics and microbiology, and mentors undergraduate and graduate students in his lab.
Mitchell has won numerous awards and distinctions for his research and teaching, including the 2015 American Society for Microbiology's Graduate Microbiology Teaching Award. He is a fellow of the American Academy of Microbiology and the American Association for the Advancement of Science. He has served as an editor or on the editorial boards of a number of scientific journals, including Genetics, Molecular and Cellular Biology, Eukaryotic Cell, PLoS Pathogens and PLoS Biology.