May 11, 2016
Countdown To 119th Commencement
The Class of 2016 is counting down the hours to 10:15 a.m., Sunday, May 15, when they'll begin their march into Gesling Stadium for Carnegie Mellon University's 119th Commencement, a major milestone in their academic careers.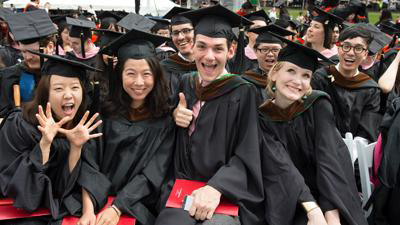 This year's student speaker is Sophie Rose Zucker, a member of the Science and Humanities Scholars Program who will be receiving a bachelor's degree in chemistry with University Honors and a bachelor's degree in creative writing with College Honors.
Zucker has been an active member of the Carnegie Mellon community. She has been a four-year member of Alpha Chi Omega Sorority, serving on its executive board as vice president for recruitment. She also was president of MORF, CMU's feminist club, and has been involved in the annual MOSAIC Conference, which focuses on gender issues.
She served as editor-in-chief of The Oakland Review, CMU's literary magazine, and wrote and directed the Chemistry Department's Murder Mystery Dinner Theater production this year.
After graduation, she is heading to Madison, Wis., to work at Epic Systems, a software company for health care organizations.
This year's keynote speaker for the main commencement ceremony is Earl Lewis, president of the Andrew W. Mellon Foundation and one of America's leading advocates for supporting the humanities and the arts in higher education.
Lewis will receive an honorary Doctor of Humane Letters degree. He is a renowned social historian and fellow of the American Academy of Arts and Sciences. He visited Carnegie Mellon in October, when he delivered the opening address for the Center for Africanamerican Urban Studies and the Economy's 20th Anniversary Conference. He presented the keynote address for the center's opening in 1995.
Prior to joining the foundation as its sixth president in 2013, Lewis was provost and executive vice president for Academic Affairs and the Asa Griggs Candler Professor of History and African-American Studies at Emory University. He previously held faculty appointments at the University of California at Berkeley and the University of Michigan. He is the author and co-editor of seven books.
Honorary Degree Recipients
It is a Carnegie Mellon tradition to award honorary degrees at commencement to exemplary leaders, whose life and work serve as an inspiration for Carnegie Mellon students, faculty and staff. In addition to Lewis, this year's honorary degree recipients are:
Holly Hunter, an Academy Award winner who is among the elite actors in the entertainment industry, will receive a Doctor of Fine Arts degree. She graduated from the College of Fine Arts in 1980.
Robert Langer, the David H. Koch Institute Professor at MIT and the most cited engineer in history, will receive a Doctor of Science and Technology degree.
Sonia Manzano, who changed the face of American television on the iconic, Emmy Award-winning children's television series "Sesame Street," will receive a Doctor of Fine Arts degree. She attended the College of Fine Arts.
James Swartz, leading partner and founder of the Palo Alto, Calif.-based Accel Partners, a prominent global technology venture capital firm, will receive a Doctor of Business Practice degree. He is a 1966 graduate of the Tepper School of Business.
Event Information
Guests attending the ceremony will be asked to be seated at 10:15 a.m. Graduates will begin processing to their seats at 10:15 a.m. The ceremony will take place at 11 a.m., rain or shine.
For guests who wish to view the event indoors, the ceremony will be simulcast in McConomy Auditorium, Kirr Commons and Wiegand Gym, all located on the first floor of the Jared L. Cohon University Center.
Those unable to be on campus for the ceremony can watch via webcast.
Graduates and their families are encouraged to share photos and posts on social media and to tag them with #CMUgrad. Follow @CMUcommencement on Twitter for the most up-to-date commencement news.
Posts will appear on the webcast page and some will be featured on the screens at the stadium.
Related: