March 10, 2016
Black Women's History Pioneer to Deliver Lecture
By Emily Stimmel /
estimmel@andrew.cmu.edu
/ 412-268-1788
Darlene Clark Hine, a leading historian of the African-American experience who helped found the field of black women's history, will speak at Carnegie Mellon University's 10th annual Margaret Morrison Distinguished Lecture in Women's History. The talk, which is free and open to the public, is scheduled for 4:30 p.m., Friday, March 18 in Baker Hall's Giant Eagle Auditorium (A51), following a 4 p.m. welcoming reception.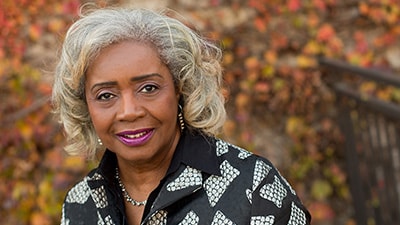 Darlene Clark Hine
Hine, the Board of Trustees Professor of African-American Studies and History at Northwestern University, will discuss the role of black women in health professions in fighting for progress before the Modern Black Freedom Movement.
Hine's work documents the ways that white medical and legal professionals excluded their black counterparts using legislative, licensing and regulatory agencies. Her scholarship also highlights the ways that black women health professionals spearheaded movements that fueled the African-American freedom struggle of the 1950s and '60s.
"Unlike their white counterparts, black female medical professionals were called into being to serve a people 'perceived to be marginal and peripheral' to the life of the nation," said Carnegie Mellon's Giant Eagle Professor of History and Social Justice Joe W. Trotter, Jr.

As the director of CAUSE (Center for Africanamerican Urban Studies & the Economy), which is co-sponsoring the lecture, Trotter views the talk as an excellent opportunity to highlight Hine's work at the intersection of race, class and gender.

"No one has had a more profound impact on the transformation of our understanding of the complicated interplay of class, race and gender dynamics in African-American and U.S. social and political history than Hine," he said. 

A 2015 National Women's History Month honoree and recipient of the 2013 National Humanities Medal for her contributions to black women's history, Hine is a prolific scholar whose publications include "Black Women in White: Racial Conflict and Cooperation in the Nursing Profession, 1890-1950" and "Hine Sight: Black Women and the Re-Construction of American History."

"Each year, for 10 years, we've been welcoming distinguished scholars of women to campus for Women's History Month, and we're delighted to partner with CAUSE on our anniversary to welcome Hine, a towering figure in the field," said Lisa Tetrault, associate professor of history and lead organizer of the Margaret Morrison Distinguished Lecture Series. 

"Her scholarship and career embodies the cutting-edge contributions this series is meant to highlight, and her work on black women health workers reminds us to think expansively about women's work for freedom and well-being," added Tetrault.

The Margaret Morrison Distinguished Lecture in Women's History is also sponsored by CMU's Department of History in the Dietrich College of Humanities and Social Sciences.
The lecture series is named for Margaret Morrison Carnegie, the mother of Andrew Carnegie, who founded Carnegie Mellon under the name Carnegie Institute of Technology. The institute was home to four schools, including Margaret Morrison Carnegie College, a women's college that closed in 1973, and which was the original home of CMU's history department.

Related Articles:
Carnegie Mellon Presents "The Rebellious Life of Mrs. Rosa Parks"

Joe Trotter and the Effects of CAUSE