March 02, 2016
CMU Junior Receives Public Policy & International Affairs Fellowship
By Emily Stimmel / 412-268-1788 /
estimmel@andrew.cmu.edu
Melanie Diaz has been awarded a Public Policy & International Affairs (PPIA) fellowship for 2016. The fellowship program is designed to help students from diverse backgrounds attend graduate school, typically in the areas of public policy, public administration, international affairs and related fields.
As part of the fellowship, Diaz will attend an intensive, seven-week Junior Summer Institute (JSI) at Carnegie Mellon University's Heinz College this June. The institutes provide students with the knowledge and skills they will need to succeed while pursuing a master's degree and working to serve the public good.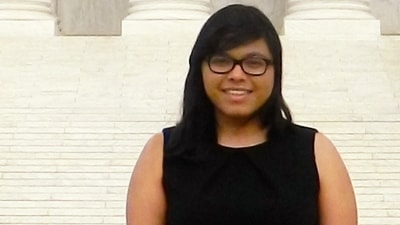 Melanie Diaz
"What makes Melanie such a great candidate for the PPIA is that she has the heart and the head to make a difference in education," said Stephanie Wallach, assistant vice provost for undergraduate education.
"PPIA invests in students like Melanie who have the desire and talent to carve out noteworthy careers in public policy," Wallach added.
A junior English and global studies major in the Dietrich College of Humanities and Social Sciences, Diaz is interested in pursuing policy work related to immigration and education reform. She ultimately hopes to become a professor of international relations or English.
After interning at the Council on Hemispheric Affairs (COHA) during the Washington Semester Program (CMU/WSP) as a sophomore, Diaz discovered an interest in policy. As a research associate, she wrote about issues concerning Latin American people, edited articles and coordinated COHA's publication process.
"Melanie represents the best qualities of a humanities student — and especially an English major — at Carnegie Mellon: someone who moves seamlessly from the big ideas of academic work to the challenges of everyday life; who can read an abstract poem or a difficult theoretical text and learn something about how to handle a concrete problem in our society, like immigration reform," said Andreea Deciu Ritivoi, head of the English Department. "She is the kind of bold and enthusiastic thinker we are proud our department creates."
Though the time Diaz spent in Washington spurred her interest in national-level reform, her heart is in her hometown of Los Angeles.
"I am big on giving back to my community so I would also like to do some city-level work in L.A., especially in regard to education reform," Diaz said.
Having grown up in the Los Angeles Unified School District (LAUSD) system, Diaz is intimately familiar with the challenges the district faces due to budget cuts.
"My goal of reforming the LAUSD system is rooted in my own experiences and desire that future students won't have to face these same struggles, but instead receive an education they deserve."
After completing the JSI, students gain access to networking, mentoring and career development resources through an alumni network of nearly 4,000 past fellows. Additionally, alumni of the program may receive financial support for graduate school if they enroll in a program that is part of the PPIA Graduate School Consortium.
With over 30 public policy and international affairs programs nationwide — including those at Harvard, Princeton and CMU — the consortium offers benefits to fellows including waived application fees, a one-time financial award of $5,000 from the school and, often, additional financial assistance.
"Melanie will be a valued member of the 2016 PPIA cohort, and she will benefit tremendously from this opportunity and from the financial support that PPIA provides to attend graduate school," Wallach said.
For Diaz, the financial aid offers access to well-regarded graduate programs that would otherwise be out of reach.
"My dream of going on to receive my Ph.D. is now possible," she said.
Related Article:
Two CMU Students Selected Public Policy & International Affairs Fellows