March 16, 2016
Greeks Pledge Songs, Service for Philanthropy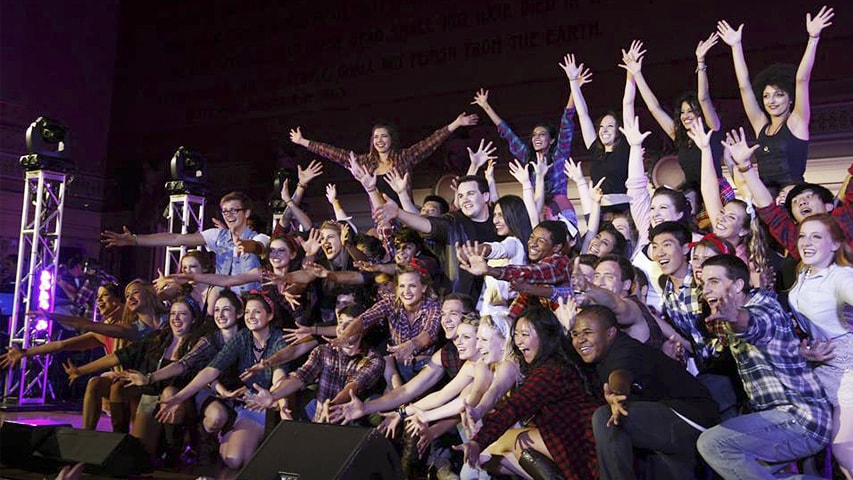 Mid-terms, spring break, Greek Sing.
For many in Greek life at Carnegie Mellon, this trio has become a tradition.
"Greek life at CMU is a really special experience because people can take the drive and passion they usually have for their school work and gear it towards events like Greek Sing," said this year's co-chair, Amanda Branson (CMU 2017). "Greek Sing is one of the ways that we can do something for the greater good in a way that's fun for us and culminates in a show that the entire CMU community can engage with at the end."
The greater good Branson mentions is the signature of Greek Sing; each year, a non-profit chosen by the students benefits from the event, with this year's proceeds benefiting Our Clubhouse.
"Our Clubhouse is a home away from home for people who maybe have it a bit tougher because someone in their family has been touched by cancer," said Branson's co-chair, Erin Persson (E 2016).
Two years ago, Greek Sing pledged to raise $160,000 for Our Clubhouse, based in Pittsburgh.
"Last year we raised $86,000, so this year we need to raise $74,000," Branson said. "Hopefully more."
Funds raised are not through ticket sales alone. From restaurant fundraisers to candygrams, the chapters involved have been raising money toward the goal throughout the school year.
Fundraising isn't the only part of Greek Sing that lasts the whole year; sororities and fraternities pair up in the fall semester to pick a show and adopt the plot, script and music. Once spring semester hits, groups start rehearsing multiple times a week while building their own sets and creating costumes.
So, with such rigorous academic schedules — Branson is pursuing a Bachelor of Humanities and Arts in Vocal Performance & Decision Science, and Persson is slated to graduate this spring with degrees in Civil & Environment Engineering and Engineering & Public Policy — why does Greek Sing happen?
"People who come to CMU, and those who join Greek life here, are looking for a holistic experience that provides them the opportunity to have some impact on the world," Branson said. "I think it actually provides a fun departure for students to focus on something special for charity that doesn't necessarily relate to their goals post-college."
Plus, it's a lot of fun, especially when you win. Persson was a part of last year's winning "Seussical the Musical."
"Sharing that experience with my sisters and then a whole different fraternity — I think it was one of the best feelings I've ever had. After putting in all that work and all the hours we did it and it was really awesome."
This year's show promises to be just as amazing. Greek Sing 2016 begins at 5:30 p.m. Saturday, March 19 at Soldiers & Sailors Hall.
Related: