July 06, 2016
Fueling the Digital Economy in Africa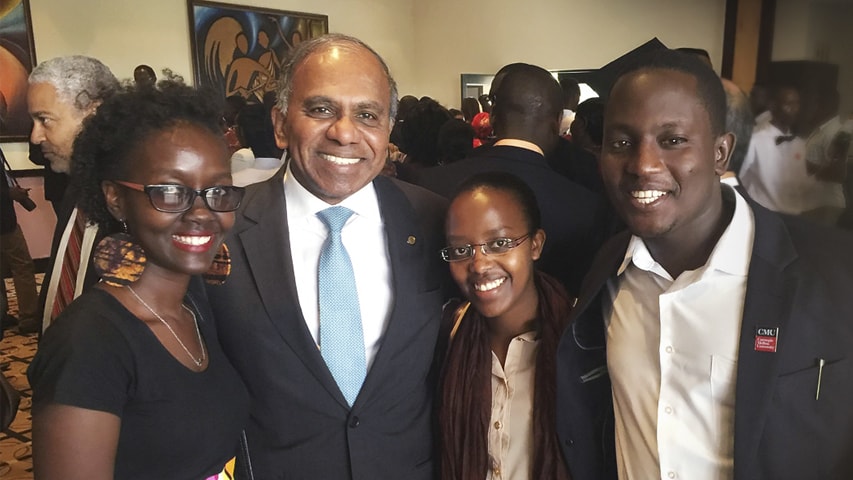 President Suresh with CMU alumni (l-r) Lynn Kirabo, Esther Kunda and Gaspard Harerimana.
As Carnegie Mellon University in Rwanda celebrates its fourth year, its young alumni are already making their mark as the next generation of entrepreneurs and business leaders in Africa.
The groundbreaking program, which offers master's degrees in information technology and electrical and computer engineering, graduated its third class on June 20. CMU President Subra Suresh presided over the ceremony in Kigali, and reflected on how the region is building its own human and intellectual infrastructure.
"The socio-economic transformation that has happened in Rwanda is remarkable. And Carnegie Mellon is privileged to play a role in this nation's steady march toward the future," Suresh said during the ceremony. "We are particularly honored that the government of Rwanda sought us out as a strategic partner to be a part of this great country's transformation, and more broadly the wave of economic development sweeping across Africa."
Lynn Kirabo was the student speaker at last year's graduation ceremonies. Kirabo said that she can see data beginning to be embraced as a strategic tool influencing business in Africa.
"People are beginning to realize the role that data plays in decision making," she said. "Carnegie Mellon is helping drive that change by equipping the graduates with the necessary data science skills that are needed, but also, that Carnegie Mellon has enabled us to ask the right questions that will, in turn, lead to creating innovation that matters."
Kirabo is now a software engineer at Fenix International where she has helped integrate data science into daily processes.
"Fenix International's mission is to use disruptive innovation to improve the quality of life of their customers and as such we are constantly improving on our systems," she said. She also offers probono consulting to people with tech-based start up ideas. "I believe that there are a lot of brilliant ideas out there but a lot of them need structure and access to the right people."
"Technology is driving rapid change on the continent, and our graduates are driving creative solutions relevant to Africa," said College of Engineering Dean Jim Garrett.
Innovation and digital revolution were part of the discussion at a recent World Economic Forum on Africa event that took place May 11-13 in Kigali, Rwanda's capital city and home to the CMU program. More than half a dozen African heads of state and other government leaders were in attendance with business leaders and others.
A leading initiative of the Rwandan government, Kigali Innovation City, which is being built on the outskirts of Kigali and will be home to CMU-R's permanent campus, was highlighted during the event. Rwanda's overarching goal is to create an unparalleled enabling environment for business, and this community will become the focal point of information communication technology (ICT) innovation in Africa. Along with CMU, residents will include domestic and global ICT companies, such as Ericsson, research centers and universities.
Carnegie Mellon hosted a satellite event to the World Economic Forum on May 12, with a panel session, "Building an innovation ecosystem to fuel a digital economy." Topics addressed included emulating a "Silicon Valley Effect" that is relevant to Africa, along with the challenges of building a research culture in Africa.
Moderated by Professor Michel Bezy, associate director of Carnegie Mellon University in Rwanda, the panel included senior leadership of Microsoft and the Smart Africa Secretariat.
"Having the World Economic Forum on Africa in Kigali was an exceptional opportunity to meet world leaders shaping business and innovation across the continent, and to raise the visibility of Carnegie Mellon's presence in Africa" Bruce Krogh, director of CMU-R and professor of electrical and computer engineering.
Diogene Niyigena, a 2015 graduate in information technology, said that important strides are being made with companies such as IBM, Oracle and Intel establishing presences in East Africa.
"CMU has changed a lot things in my life, the way I think, the way I solve business oriented problems and most importantly, the way I set my targets," Niyigena said. "The internship that I got at IBM through CMU-R was a trigger to the decisions that I am making when it comes to my current and future professional path."
Niyigena now works as a software engineer at Pivot Access, a company that helps make money transfers easier by phone. He said there is a lot of innovations in the sector and that many of the transfers can be made without Internet or smart phones.
"In Rwanda and East Africa in general, the mobile money transfer has become huge at the point that most of the banks have developed interfaces to their core banking systems," he said.
Both Niyigena and Kirabo have traveled abroad to share some of what they are working on. Niyigena presented at a conference in Japan about research related to helping rural health clinics reduce the cost of solar power. Kirabo, a Uganda native, spent a semester in Pittsburgh at CMU's main campus.
"Carnegie Mellon is making an immeasurable impact in the East African community," Kirabo said. "They do not just impact me, but also impact the different individuals that I interact with. When CMU-R students travel, they take a bit of East Africa with them, thus exposing our ideas to people who might not have to be a part of the East African innovation ecosystem."
More than 80 percent of Rwandans live on subsistence farming, and the country is landlocked, with few natural resources, which is why the national plan to create a knowledge-based economy is so important. Niyigena said that the fiber optic network now reaches all of the districts and will be in homes in the future. In addition, most government services are online.
"You apply and get a passport in less than three days, you can register a company online and start operating in less than six hours," he said. Kigali is covered with 4G Internet, and by 2017 the entire country will be covered.
"On top of that we have the government that understands the impact of ICT in people's everyday lives. That is why we have short- and long-term ICT policies. Rwanda is aiming to becoming the ICT hub in East Africa, and these facts and many others, show that it not a dream anymore."
Related: