February 01, 2016
Ryan Sullivan, Venkat Viswanathan Earn NSF Career Awards
By Lisa Kulick / 412-268-5444 /
lkulick@andrew.cmu.edu
Two faculty members from Carnegie Mellon University, Ryan Sullivan and Venkat Viswanathan, have received the National Science Foundation's (NSF) Faculty Early Career Development Award (CAREER).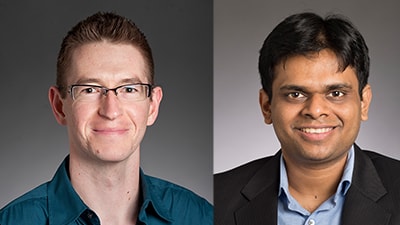 Ryan Sullivan (left) and Venkat Viswanathan
The CAREER program offers the foundation's most prestigious awards in support of junior faculty who exemplify the role of teacher-scholars through outstanding research and education.
Sullivan, an assistant professor of mechanical engineering and chemistry, was awarded a five-year grant to study the effects of chemical aging on the ice nucleation properties of natural and anthropogenic atmospheric particles.
His research will improve our understanding of how air pollutants alter the ability of atmospheric particles to cause clouds to freeze. Glaciated clouds are the major source of precipitation over land, yet we lack a detailed understanding of the sources and behavior of these rare ice nuclei in the atmosphere.
The grant will support educational modules for K-12 teachers to introduce students to the chemical science and measurement of air pollution, acid rain and cloud forming reactions.
Viswanathan, an assistant professor of mechanical engineering, was awarded a five-year grant to study engineering electrode-electroyle interfaces through electrolyte selection for improved performance in lithium-air batteries and fuel cell electrocatalysis.
Because the mass-market adoption of environmentally friendly electric vehicles requires significant improvements to battery technology, Viswanathan seeks to improve discharge capacity and rechargeability in lithium-air batteries. His findings could have an impact on other metal-air battery technologies such as sodium-air, magnesium-air and potassium-air.
His grant will support his statistical thermodynamics massive open online course with 3-D printed learning kits.