February 25, 2016
Faces of Conflict: CMU's International Film Festival Runs March 17-April 3
By Shilo Rea / 412-268-6094 /
shilo@cmu.edu
and Emily Stimmel / 412-268-1788 /
estimmel@andrew.cmu.edu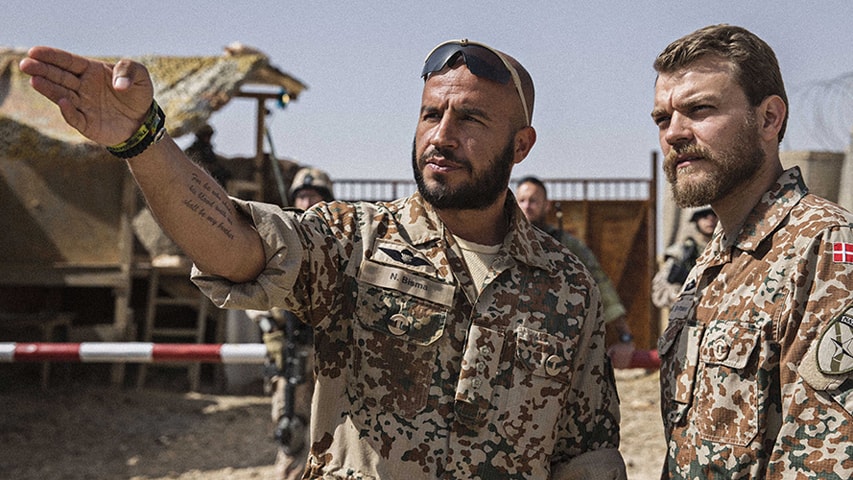 "A War" opens the festival at 7 p.m., March 17.
Focusing on topics ranging from terrorism and propaganda, to war and civil rights, the 2016 Carnegie Mellon University International Film Festival, "Faces of Conflict," will run March 17 – April 3 at various locations around Pittsburgh.
The festival — celebrating its 10th anniversary — will screen 16 award-winning films from 15 countries, including Denmark, Mexico and Poland. Following the festival's tradition, each screening also will feature a special event, such as appearances by the director or someone else associated with the film, panel discussions, presentations and culinary displays relevant to the film's themes.
"We're exploring complex conflicts the mainstream media typically portrays with very hard lines — left wing versus right, right versus wrong," said Jolanta Lion, director of the film festival and assistant director of the Humanities Center in the Dietrich College of Humanities and Social Sciences.
"The festival offers more perspectives and a chance to discuss these issues. In this way, our goal is for audience members to understand the world and each other better."
Opening night will feature "A War" at 7 p.m., March 17 in CMU's McConomy Auditorium. Nominated for an Academy Award for Best Foreign Language Film, the film, screening for the first time in Pittsburgh, tells the story of a Danish military company in Afghanistan that is fighting the Taliban. The soldiers are caught in heavy crossfire during what was supposed to be a routine mission, and in order to save his men, the commander makes a decision that leads to him being charged with a war crime.
"'A War' provides the traditional stages for conflict — Afghanistan, a courtroom and even a marriage — but what distinguishes this film from its action-heavy counterparts is that it thrives on empathy, subtlety and internal conflict. It's a war film for people who don't like war films," Lion said.
In honor of the festival's 10th anniversary, opening night will feature posters from the festival's archives. CMU artists and high school students from Pittsburgh CAPA 6-12 have manipulated and altered the posters' designs and the custom artwork will be part of a silent auction.
Also to mark a decade of bringing films from around the world to Pittsburgh, the festival is offering two educational components. Middle- and high-school students at CAPA and Pittsburgh's Kentucky Avenue School will participate in the festival's Youth Outreach Program, which will screen films appropriate for younger audiences.
College students who attend any of the schools represented by the Pittsburgh Council on Higher Education are invited to enroll in the "Faces of Conflict" course offered by CMU during the last week of the festival. The weekend crash-course will offer workshops with filmmakers and, through readings and screenings, teach a foundation in film analysis.
"This is a great way to expose young students to stories that rarely make it into the mainstream media," Lion said.
Other film highlights include the Polish documentary "Something Better to Come." The film follows the life of Yula, a young girl who spent 14 years living in a Russian landfill, highlighting the harsh contrast between Yula's extreme poverty and Moscow's wealth and the abundance that exists just miles away.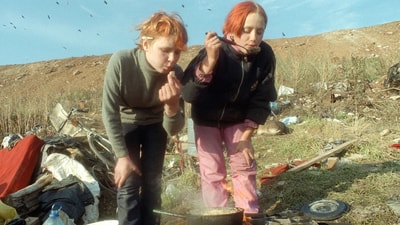 "Something Better to Come" follows the life of Yula, a young girl who spent 14 years living in a Russian landfill.
Yula, who will leave Russia for the first time, and the film's director, Hanna Polak, will attend and take part in a discussion after the screening at 1 p.m., March 31 at the Harris Theater, downtown.
"Watching 'Something Better To Come' is a truly humbling experience. Previewing it made me acutely aware of how fortunate most of us are," said Quelcy Kogel, a CMU alumna who majored in architecture, Spanish and international relations and took the film festival's course in its first year, 2006.
"The film will stir emotions, but the audience will also have the opportunity to make a positive impact on Yula's life through the director's charity for kids like Yula. This is just another example of how the festival is about more than the screen," she said.
The Oscar-nominated film "Cartel Land" (Mexico, USA) will screen at 7 p.m., April 1 in McConomy Auditorium. Directed by Matthew Heineman, the documentary offers a raw and brutal window into the Mexican drug war. Heineman embeds himself within two vigilante groups — one a citizen group led by a Mexican physician and the other a small U.S. paramilitary group — each working in their own ways to stop the cartels.
"Since 2013 heavily armed paramilitary self-defense groups, or autodefensas, have formed in at least 13 states across Mexico in response to conditions of rising violence and insecurity resulting from the actions of the trafficking groups as well as the inaction and complicity of security forces and government officials," said Paul Eiss, associate professor of anthropology and history at CMU who has studied both sides of Mexico's drug war.
"'Cartel Land' takes us to ground zero of the autodefensa movement in the state of Michoacán, providing astonishing footage of a multi-sided conflict in which nobody is quite who they seem to be."
The film will be followed by a reception and a Q&A session featuring Eiss and Roger Rouse, instructor of global studies at the University of Pittsburgh.
The annual Short Film Competition will be held at 6 p.m. on March 25 at Point Park University's George Rowland White Theater. This year, there is a special high school category, and students will have the opportunity to win one of three scholarships to attend Point Park University's film program.
The festival will close at 3 p.m. on Sunday, April 3 with "Requiem for the American Dream" in McConomy Auditorium. The documentary features interviews with highly-regarded intellectual and activist Noam Chomsky, filmed over the course of four years. Throughout the film, Chomsky provides insight into wealth inequality and America's diminishing middle class.
"In addition to a timely, compelling and incredible lineup of films, we have a number of special events and programs such as the Short Film Competition and the youth component. Having special guests like Yula from the documentary 'Something Better to Come' and others allows festival-goers to see these 'faces of conflict' both onscreen and in person, and their presence makes this festival a truly unique opportunity," said Alex Heald, a Heinz College student and the festival's logistics coordinator.
General admission tickets to the film and reception on opening night (March 17) are $15 ($10 for seniors and students). General admission tickets for all other screenings are $10 ($5 for seniors and students). A full-access festival pass can be purchased for $50 ($25 for seniors and students.)
The CMU International Film Festival is organized by The Humanities Center at Carnegie Mellon, and is dedicated to and inspired by the life and work of the late Paul Goodman, a world-renowned filmmaker, psychologist and Carnegie Mellon professor.
"Faces of Conflict" is proudly supported in part by a generous sponsorship from TeleTracking Technologies, Inc. and is sponsored by a diverse group of institutions, organizations, media outlets and local establishments, including: Carnegie Mellon University's Humanities Scholars Program, Sylvia and David Steiner Speaker Series, Center for the Arts in Society, Dietrich College Dean's Office, AB Lectures, Student Dormitory Council, Office of the Provost, School of Art, ProSEED, Division of Student Affairs, Tepper School of Business, Entertainment Technology Center, Graduate Student Assembly, Osher Lifelong Learning Institute, Department of English, CAUSE, Steinbrenner Institute, University of Pittsburgh, Point Park University, Carlow University, The Sprout Fund, Consulate General of the Republic of Poland in New York, Silk Screen Film Festival, Sembène Film & Arts Festival, 31st Street Studios, WYEP, WESA, Pittsburgh Filmmakers and Chengdu Gourmet.
See a complete festival schedule, watch the film's trailers and reserve tickets.