February 23, 2016
Researchers Show Coal Retirement Needed for Electric Vehicles To Reduce Air Pollution
By Tara Moore / 412-268-9673 /
tararaemoore@cmu.edu
A new study by Carnegie Mellon University researchers finds that electric vehicles charged in coal-heavy regions can create more damage to human health and the environment than gasoline vehicles in those regions. But many coal-fired plants are set to be retired soon, which could flip the scales in favor of electric vehicles.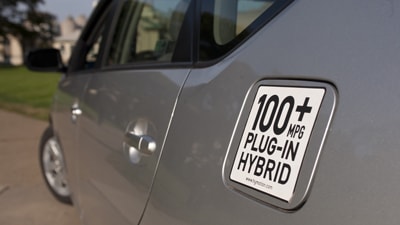 Carnegie Mellon Assistant Professor of Engineering and Public Policy Paulina Jaramillo; Professor of Engineering and Public Policy and Mechanical Engineering Jeremy Michalek; and former Engineering and Public Policy Ph.D. student Allison Weis studied the electricity grid in the PJM region, which includes Washington, D.C., Philadelphia, Pittsburgh and Chicago.
"We modeled the power plants in the PJM region and looked at how plant operation would change in response to electric vehicle charging load," Jaramillo said. "Then we modeled the emissions from those power plants, the effects of emissions on air pollution in downwind counties, and the resulting implications for human health and the environment."
The study, published in the journal Environmental Research Letters, examined vehicles that use electricity, gasoline or a combination of the two energy sources.
"The most recent year for which all of the necessary data are available to make this assessment is 2010," Michalek said. "We find that in 2010 a battery electric vehicle like the Tesla Model S could cause two to three times as much damage to human health and the environment as an ordinary gasoline vehicle."
The largest source of damage stems from sulfur dioxide emissions from coal-fired power plants, which form airborne particles that people breathe, according to the study.
"With projected retirements of coal-fired power plants in the region resulting from upcoming environmental regulation, we find that plug-in electric vehicles can reduce air emissions damages below those of even the most efficient gasoline hybrids," Michalek said.
Last week's decision by the Supreme Court to stay the Obama administration's Clean Power Plan could slow the transition away from coal and affect the air emissions of electric vehicles, according to the authors.
The study, which was funded by the Doris Duke Charitable Foundation, the Richard King Mellon Foundation, the Electric Power Research Institute, the Heinz Endowment, the National Science Foundation and Toyota Motor Corporation, also examined a hypothetical case with increased wind power.
"Air emissions damages resulting from electric vehicle charging hinge primarily on the amount of coal in the system, not the amount of wind or solar power," Jaramillo said.
"When EV charging load is added to a power system, wind and solar plant output cannot be turned up to respond because they are typically already fully utilized," Michalek explained. "Fossil fuel plants are the ones dispatched in response