December 08, 2016
Three Computer Science Faculty Members Named ACM Fellows
By Byron Spice
Three faculty members of Carnegie Mellon University's School of Computer Science — Justine Cassell, Manuela Veloso and Todd Mowry — have been named Association for Computing Machinery (ACM) fellows for 2016 in recognition of their contributions to human-computer interaction, computer architecture and artificial intelligence.
They are among 53 members of the ACM, the world's leading computing society, elevated to fellow status this year. ACM will formally recognize the 2016 fellows at the annual Awards Banquet in San Francisco on June 24, 2017.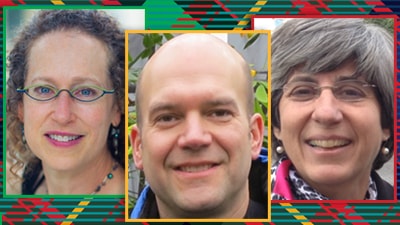 Justine Cassell, Todd Mowry and Manuela Veloso (l-r)
"As nearly 100,000 computing professionals are members of our association, to be selected to join the top 1 percent is truly an honor," said Vicki L. Hanson, ACM president. "Fellows are chosen by their peers and hail from leading universities, corporations and research labs throughout the world. Their inspiration, insights and dedication bring immeasurable benefits that improve lives and help drive the global economy. "
Cassell, SCS associate dean for technology strategy and impact and a professor in the Language Technologies Institute, was cited by the ACM "for contributions to human-computer interaction and advocacy for empowerment and voice through technology."
Cassell's research focuses on computational systems that use conversation and storytelling to enhance learning and communicative skills in humans. One of her recent projects is SARA, a Socially Aware Robot Assistant that uses artificial intelligence to collaborate with human users. A former director of the Human-Computer Interaction Institute, she is co-director of Carnegie Mellon's Simon Initiative and chairs the World Economic Forum Global Agenda Council on Robotics and Smart Devices.
Veloso, the Herbert A. Simon University Professor of Computer Science and head of the Machine Learning Department, was cited "for contributions to the field of artificial intelligence, in particular in planning, learning, multi-agent systems, and robotics."
Veloso is internationally recognized for her pioneering work on robot soccer, a research tool for studying how autonomous agents can work cooperatively in complex, uncertain environments. Another research area is symbiotic autonomy, in which intelligent mobile robots are autonomous and aware of their physical, cognitive and perceptual limitations, and proactively address those shortcomings. She is the past president of the Association for the Advancement of Artificial Intelligence.
Mowry, professor in the Computer Science Department, was cited "for contributions to software prefetching and thread-level speculation."
Mowry's research interests span the areas of computer architecture, compilers, operating systems, parallel processing, database performance, and modular robotics. He co-leads the Log-Based Architectures project and the Claytronics project. In 2004-2007, he served a rotation as the director of Intel Labs Pittsburgh.
Other 2016 ACM fellows include SCS alumni Jason Flinn of the University of Michigan, Yolanda Gil of the University of Southern California, Somesh Jha of the University of Wisconsin, James Landay of Stanford University, Adrian Perrig of ETH Zurich and Carlo Tomasi of Duke University. Also included are former faculty members Xuedong Huang of Microsoft AI and Research, Daniel Jackson of MIT and Ravi Kannan of Microsoft Research.
More than 50 SCS faculty members and alumni have been named ACM fellows previously.
Additional information about the ACM Fellows program is available online.