December 22, 2016
2016 In Review
From visits by President Barack Obama and Stephen Colbert to a record-number of first-year women in computer science and technology, Carnegie Mellon University continued to build new foundations and forge new paths with work that matters. Here is a selection of some of the top stories from the past year: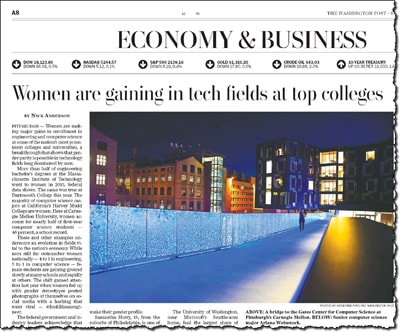 CMU's Proportion of Undergraduate Women in Computer Science and Engineering Soars Above National Averages
While national efforts to encourage women to pursue degrees in key science and technology fields have flagged, CMU reached a new high-water mark.
Legal Settlement Recognizes Groundbreaking Research, Brings University $250 Million
Carnegie Mellon reached a settlement in its 2009 patent infringement lawsuit against Marvell Technology Group Ltd. and Marvell Semiconductor, Inc.
Obama, Leading Scientists Explore Frontiers at CMU
President Obama made his fifth visit to CMU, this time for The White House Frontiers Conference, a large gathering that discussed building America's capacity in science, technology and innovation.
Colbert Drops by CMU, Offers President Obama Resume Tips
President Obama received some unsolicited career advice at CMU from Stephen Colbert, host of CBS' "The Late Show With Stephen Colbert."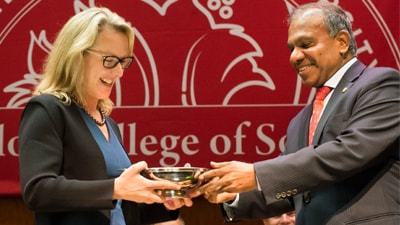 In keeping with the university's Scottish tradition, President Subra Suresh presents Rebecca Doerge with a quaich (pronounced quake), a ceremonial drinking cup offered in friendship or welcome.
Rebecca Doerge Appointed Dean of Mellon College of Science
Rebecca Doerge, the Trent and Judith Anderson Distinguished Professor of Statistics at Purdue University, was appointed dean of the Mellon College of Science.
Building Connections: Sherman and Joyce Bowie Scott Hall Opens Window to the World
Like a puzzle piece, the building and its amenities connect fields of study and expand collaboration across CMU.
World Economic Forum Features Eight CMU Faculty in Conversation With World Leaders at Davos
CMU faculty — one of the largest university delegations at the prestigious conference — met with government and business leaders from around the world to explain the latest research in fields such as big data, artificial intelligence and climate change.
President Suresh Takes Ride in Uber Driverless Car
Carnegie Mellon President Subra Suresh joined Pittsburgh Mayor Bill Peduto for the first official ride in an Uber self-driving car. The commercial application of autonomous driving has drawn national attention, highlighting the formative role Carnegie Mellon research has played in the field.
CMU Spinoff Wins $2 Million in Cyber Attack Challenge
ForAllSecure, a Carnegie Mellon startup, won $2 million in prize money as winners of the DARPA Cyber Grand Challenge, a first-of-its-kind hacking contest in which all participants were autonomous computer systems.
Carnegie Mellon Marks Launch of Swartz Center for Entrepreneurship
The university created the Swartz Center with support from a $31 million gift from James Swartz, a distinguished entrepreneur and founding partner of the global venture capital firm Accel Partners.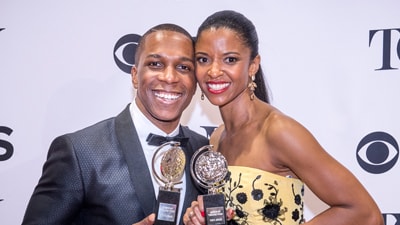 Leslie Odom, Jr. and Renée Elise Goldsberry each received Tony Awards for their roles in "Hamilton."
Carnegie Mellon Alumni Goldsberry, Odom, Jr. Win Tony Awards
Alumni Renée Elise Goldsberry and Leslie Odom, Jr. received Tony Awards for their roles in the blockbuster musical "Hamilton," bringing the number of Tonys received by Carnegie Mellon alumni to 43. CMU and the Tonys also announced that Marilyn G. McCormick, a teacher at Cass Technical High School in Detroit, won the Excellence in Theatre Education Award.
CMU, ANSYS Break Ground for New Maker Hub
CMU and ANSYS broke ground for a 30,000 square-foot facility that will become the hub of the College of Engineering's undergraduate program.
CMU Joins MasterCard Foundation To Educate Next Generation of African Tech Leaders
This new partnership at CMU's program in Kigali, Rwanda, will benefit 125 academically talented but economically disadvantaged students from Sub-Saharan Africa.
U.S. Team Wins Second Consecutive International Mathematical Olympiad
Under Coach Po-Shen Loh, associate professor in CMU's Department of Mathematical Sciences, the U.S. defeated teams from more than 100 countries in this year's competition in Hong Kong.
"Transformative" Cohon Center Addition Opens
The much-anticipated addition to the Jared L. Cohon University Center officially opened in mid-May. The new 62,000 square-foot multipurpose space will enhance campus life for students, faculty and staff.
Carnegie Mellon Receives $10 Million From K&L Gates To Study Ethical Issues Posed by Artificial Intelligence
As the ethical and policy issues surrounding artificial intelligence and other computing technologies take center stage, the global law firm made a gift to help ensure Carnegie Mellon's leadership in this emerging field.
Carnegie Mellon Featured on CBS's "60 Minutes"
"60 Minutes" correspondent Charlie Rose came to Carnegie Mellon to see the state-of-the-art work being conducted and talk with School of Computer Science Dean Andrew Moore about where AI is taking humankind.
Task Force on CMU Experience Tackles Important Campus Issues
President Suresh charged Provost Farnam Jahanian with convening an internal, campus-wide task force to closely examine the Carnegie Mellon experience and develop recommendations to enhance this community for students, faculty, staff and alumni. The Task Force is working in parallel with the President's Advisory Board for the CMU Experience.
Six Degrees of Francis Bacon Awarded Coveted NEH Grant
The interactive online tool allows anyone to trace the personal relationships among figures like Bacon, William Shakespeare, Isaac Newton and many others.
Martin Gaynor Elected to National Academy of Medicine
Gaynor, the E.J. Barone Professor of Economics and Public Policy and former director of the Bureau of Economics at the Federal Trade Commission, is renowned for his research on competition, antitrust policy and health care markets.
International Team of Scientists Led by Carnegie Mellon Chemistry Professor Verifies the Discovery of Four New Elements
The seventh row of the periodic table is finally set.
Posner Family Gives $5 Million to CMU for Presidential Scholarships
The gift will create a minimum of five undergraduate scholarships each year.
Patrick Wilson Returns To Make Directing Debut
The Broadway, television and movie star returned to his alma mater to make his directorial debut with "The Full Monty."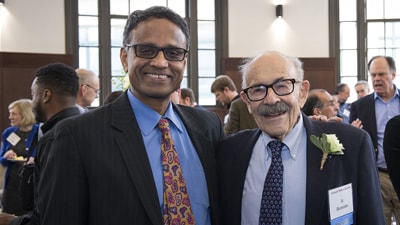 Heinz College Dean Ramayya Krishnan (left) celebrates with Alfred Blumstein during a reception in Blumstein's honor last April.
Blumstein Earns Lifetime Honor from Criminology Society
The J. Erik Jonsson University Professor of Urban Systems and Operations Research, emeritus, was the 2016 recipient of the Lifetime Achievement Award from the Division of Developmental/Life-Course Criminology (DLC) of the American Society of Criminology.
Social Historian Sways Smithsonian Dance Performance
Nico Slate never imagined his historical research would inspire dance.
CMU's Heinz College Named Top Analytics Program
Whether it's better understanding consumer behavior, improving health care for veterans or finding ways to save taxpayer money, operations research and analytics play a critical role.
Great-granddaughter Follows Path of CMU's First Ph.D. Graduate
In 1919, Mao Yisheng was the recipient of the first Ph.D. ever given by the Carnegie Institute of Technology, now known as Carnegie Mellon. In 2016, his great-granddaughter Patricia Xu graduated with a bachelor's degree in mechanical engineering and materials science and engineering.
Website Gets a New Look
Some of the most popular pages on www.cmu.edu have a new look and new content. The new pages are responsive, and the updates are part of an ongoing cmu.edu web redesign project that includes an overhaul of the site architecture.