August 19, 2016
Not Your Average Ride
Incoming Freshman, Father Bond Over Cross-Country Bus Journey
By Julianne Mattera / 412-268-2902 /
jmattera@cmu.edu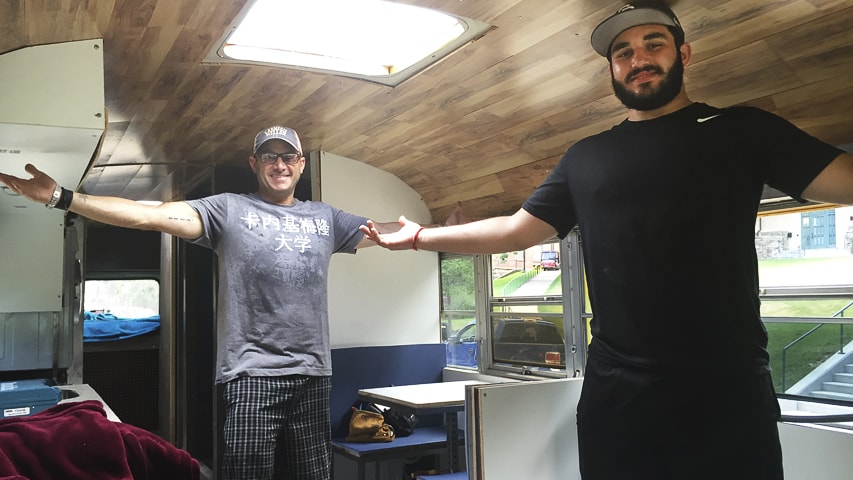 Many students hop a bus to school, but few can say they rode across the United States in one they helped convert into a home.
But Darian Cohen can.
In the months leading up to the start of his freshman year at Carnegie Mellon University, Darian worked with his father, Graeme Cohen, to turn a school bus from Tennessee into a functional home, complete with composting toilet, refrigerator, kitchenette, bed and other amenities.
Then they took it on a drive from Los Angeles to Pittsburgh, where they arrived last week and Darian, a Dietrich College of Humanities and Social Sciences student and new middle linebacker on CMU's football team, dropped off his belongings and met up with teammates.
"Before this bus was even a reality, I knew that Carnegie Mellon was the place where I wanted to be," Darian said, adding that riding in the bus to college enhanced that experience. "Carnegie Mellon — you can't top this university."
Graeme said the bus started with a vision of "micro-sizing" his lifestyle.
"I really jumped at the chance to get a school bus from Tennessee," Graeme said. "I drove it from Tennessee to Los Angeles in December, tore it down, converted it, and the goal was to get it completed by the time I had to bring him to college."
Darian helped promote the bus on social media. Graeme is working to market the same kind of lifestyle and home to others through his business, School Bus Homes. The bus that they arrived in has already been sold.
"This is kind of a launching pad for School Bus Homes as a business to take decommissioned school buses that are essentially sitting and rotting in the earth to repurpose them and give them new life," Graeme said. "It's a totally viable option because the engines in these buses and the chassis are very, very solid and sound."
For the father and son, the journey helped cement their bond. Darian said he learned some life lessons he will carry through his college years.
Darian said his father's motto, "never say can't," which Graeme has tattooed on his upper arm, is a mantra he's tried to live by.
"The one thing I can really take away from this is don't let anyone tell you what you can and cannot do," Darian said, in reference to naysayers they ran into during the trip. "If it's possible, you can do it."