September 16, 2015
Celebrating 20 Years of CAUSE and Black Urban Life Scholarship
By Shilo Rea / 412-268-6094 /
shilo@cmu.edu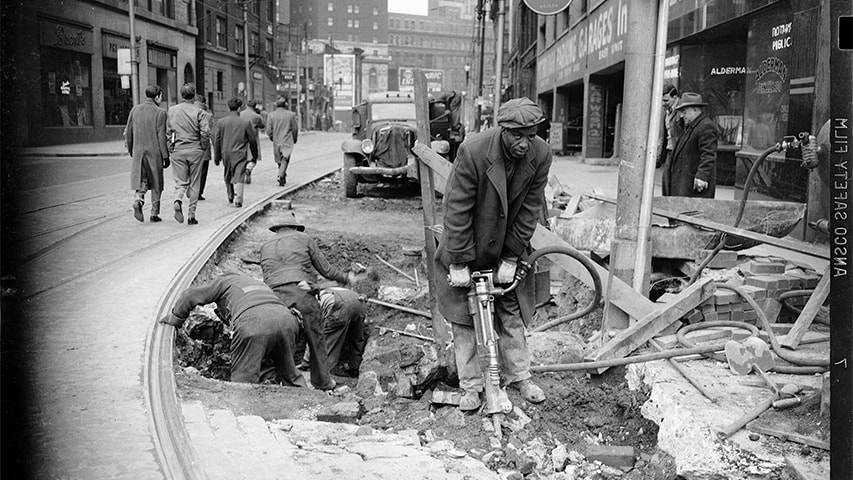 Workers dig up the street in downtown Pittsburgh, c. 1947. (Photo by Charles "Teenie" Harris © 2015 Carnegie Museum of Art)
The color of a person's skin or their country of origin has long played a role in the lives of many Americans.
To link the history of race with how it has impacted work and economic opportunities over time with current analyses of the politics, urban labor force and employment policies that shaped black urban lives, Carnegie Mellon University established the Center for Africanamerican Urban Studies and the Economy (CAUSE).
"The topic of black urban life is not only part of our past — it continues today," said Joe W. Trotter, the Giant Eagle Professor of History and Social Justice and founder and director of CAUSE. "Our hope with CAUSE is to bring these important issues to light and examine them in new and interesting ways so that we can learn from our history."
Since 1995, CAUSE has supported many activities devoted to understanding the socioeconomic, political and cultural changes from many perspectives. The annual CAUSE speakers series has brought nearly 150 leading scholars to CMU and the Pittsburgh region. The center's postdoctoral program supported 19 fellows who spent a year researching book-length projects. CAUSE-supported research projects resulted in more than a dozen book publications and numerous essays in academic journals.
To celebrate it's 20th anniversary, CAUSE will host State of the Field Conference: African American Urban History, Past and Present from Oct. 2-4 at CMU. Earl Lewis, president of the A.W. Mellon Foundation, will give the conference's keynote lecture at 5:30 p.m. on Oct. 2 in the Cohon University Center's McConomy Auditorium.
Lewis, a historian by training and a fellow of the American Academy of Arts and Sciences, will discuss "Moving Through and Beyond the Academy: From Norfolk to New York," a look at the complicated intersections of race and class within and outside U.S. higher education.  
"We are delighted that Earl Lewis will join us," Trotter said. "During his distinguished career, he has promoted diversity across all aspects of the academy; expanded our understanding of the liberal arts; and helped to strengthen connections between universities and their surrounding communities. He is also a firm advocate of the creative use of digital learning technologies."
Several other influential experts will also speak on social justice, civil rights, diversity and many other topics. (Find out more about the additional conference talks.)
CAUSE will continue to mark 20 years of advancing academic research throughout the academic year with its speaker series. It begins on Oct. 15 with "An Evening with Bob Moses: Educator and Civil Rights Activist" and ends on April 29, 2016 with Stephanie Boddie, CAUSE postdoctoral fellow, speaking on "Unfinished Business: Black Religion and Social Entrepreneurship." Learn more.
Additionally, CAUSE will collaborate with CMU's Humanities Center, Center for Arts and Society and CMU International Film Festival, to screen the Sundance Film, "(T)ERROR." on November 20. Find out more.
CAUSE is part of the
Department of History
in the
Dietrich College of Humanities and Social Sciences
.
For more information on the center or any of the anniversary events, visit
http://www.cmu.edu/history/cause/
.