November 09, 2015
Commanding Presence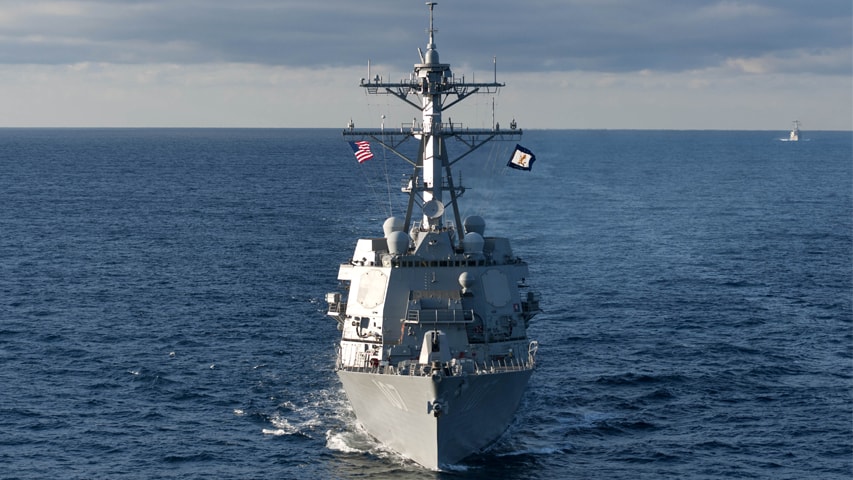 In December 2014, Alysa Ambrose (DC 1995) took command of the USS Gravely, a guided missile destroyer equipped with the Navy's latest combat capabilities. With a crew of 300, the ship is set to deploy for the Persian Gulf in mid-November, returning in June.
En route, they plan joint training events with navies from Morocco to Albania, and once there, theater security cooperation events with area partners. The complete agenda, however, is still unknown, as Ambrose notes, "the world gets a vote, as we always say."
"A lot depends on whatever you hear on CNN," she continued. "We're there to provide the diplomatic decision-makers the full gambit of options, wherever their discussions may take them. Hopefully that's diplomatic but occasionally that results in a military solution."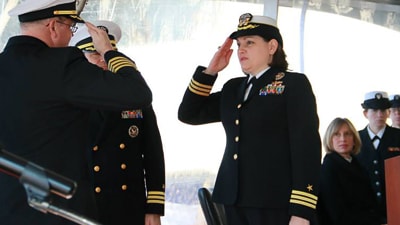 Alysa Ambrose (DC 1995)
In preparation, the ship was underway last month, completing comprehensive training with the entire carrier strike force "to make sure that we're as ready as we can be to operate overseas." The day before pulling in, Hurricane Joaquin pulled in first.
"The large ships stayed underway because it's dangerous," said Ambrose of the "very bumpy" ride. "When you come pier-side, the winds just pummel you against the pier and can cause more damage to the ships than riding through it."
It wasn't Ambrose's first harrowing storm or first deployment, as her successful career has included a series of sea tours. She has now risen to become one of a select and small group of female naval commanders, yet she entered CMU's Naval Reserve Officers Training Corps (NROTC) program without military aspiration, attracted by the college scholarship.
She found she gained a tight-knit group of friends and valuable leadership abilities.
"The Steel City NROTC unit is a very motivated unit, and unique in that it that can produce dedicated and successful junior officers across the whole gamut of the Navy's needs, whether it be nurses, nuclear engineers or pilots," said Captain Jeffrey Coran, commander of the unit that serves CMU, the University of Pittsburgh and Duquesne University.
"Commander Ambrose was from the first group of graduates that are just now starting to emerge to senior leadership positions, the first of many to come that will take command from Carnegie Mellon. This is the tip of the iceberg."
Being one of few naval women was something Ambrose didn't consider.
"At the end of my junior year, I learned they were opening combatant ships to women," she said with a laugh. "It hadn't dawned on me that they weren't."
After graduation, it became "incredibly obvious" as Ambrose began her first shipboard assignment, one of only 18 women in a crew of 2,500. She quickly decided it wouldn't be an issue.
Ambrose credits much to her CMU psychology training.
"It's very useful to my career on a regular basis," she said. "Understanding people is probably the most important aspect of my job day-to-day. Motivating sailors to contribute to their maximum potential is more important than most anything, including maintaining our equipment."
Through it all, she balances her demanding profession with raising three young children, "the most important part of my job."
Many in the CMU community have served or are currently serving in the U.S. armed forces. The CMU community includes 20 student ROTC members. There are also 57 graduate and undergraduate students, 16 faculty members and 151 staff members who are veterans.
"Carnegie Mellon is proud to provide a nurturing environment for students, faculty and staff who have served, are serving, or plan to serve in the U.S. armed forces. CMU's veterans bring to their work and education many highly valued traits: dedication, determination, discipline and a blend of self-sufficiency and teamwork that is key to CMU's culture of entrepreneurship and collaboration." 
— CMU President Subra Suresh
Commander Ambrose has one last request.
"I just want to think about the Carnegie Mellon graduates who have sacrificed," she said. "I'm happy to do my part and don't think of myself as any greater patriot than anyone else, but those who have been lost, including my NROTC friends Bryan Shelleby (DC 1995) and Arthur Schneider, certainly were."
The Steel City NROTC will have a Veteran's Day ceremony at 4:30 p.m., Nov. 11 on the Cut. All CMU faculty, staff and students are invited to attend.
Related: