March 23, 2015
Carnegie Mellon Presents "The Rebellious Life of Mrs. Rosa Parks"
Jeanne Theoharis Will Give Ninth Annual Margaret Morrison Distinguished Lecture in Women's History
By Shilo Rea / 412-268-6094 / shilo@cmu.edu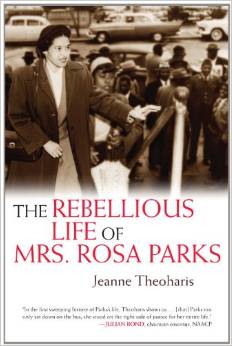 The popular image of Rosa Parks, often called the "first lady of civil rights," is that of a quiet seamstress whose refusal to give up her seat on a bus helped end public segregation.
A new book by acclaimed author Jeanne Theoharis challenges this public perception of Parks. In "The Rebellious Life of Mrs. Rosa Parks," the first scholarly biography of Parks, Theoharis unearths her political philosophy and six decades of social justice work, revealing a woman who had a history of being rebellious. Theoharis will discuss Parks and her place in women's history in Carnegie Mellon University's ninth annual Margaret Morrison Distinguished Lecture in Women's History at 4 p.m., Wednesday, March 25 in Baker Hall's Giant Eagle Auditorium.
A distinguished professor of political science at the Brooklyn College of the City University of New York, Theoharis has written or co-written seven books and numerous articles on the civil rights movement and contemporary politics of race in the U.S. She was awarded the 2014 NAACP Image Award for Outstanding Literary Work – Biography/Autobiography for "The Rebellious Life of Mrs. Rosa Parks."
Gwen Ifill, co-managing editor of PBS Newshour, called the book an eye-opening story "clouded by myth, conflict, and fictional retellings," and credited Theoharis for giving "us a valuable framework for understanding the present and the future."
The New York Times' Charles Blow said, "The Rosa Parks in this book is as much Malcolm X as she is Martin Luther King, Jr."
The Margaret Morrison Distinguished Lecture in Women's History is sponsored by CMU's Department of History, the Dietrich College of Humanities and Social Sciences and the Margaret Morrison College Program. The lecture is given annually to mark Women's History Month (March) and highlights the university's strengths in gender studies.
The lecture series is named for Margaret Morrison Carnegie, the mother of Andrew Carnegie, founder of Carnegie Mellon's predecessor, the Carnegie Institute of Technology. The institute was home to four schools, including Margaret Morrison Carnegie College, an all-women's school that closed in 1973.
Lisa Tetrault, associate professor of history, said that "It is a an honor to have Professor Theoharis on campus."
For more information, visit http://www.history.cmu.edu/lectures/mmlecture.html.
###