March 02, 2015
Tickets On Sale for First Pittsburgh Humanities Festival
Speakers at "Smart Talk About Stuff That Matters" Include Azar Nafisi, George Takei and Several from Carnegie Mellon
By Shilo Rea / 412-268-6094 /
shilo@cmu.edu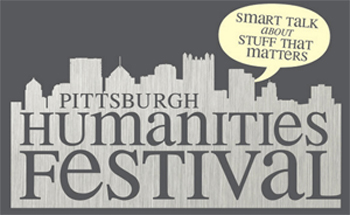 Carnegie Mellon University's Humanities Center and the Pittsburgh Cultural Trust are joining forces to bring the first Pittsburgh Humanities Festival to the city. The festival, "Smart Talk About Stuff That Matters," will run March 26-29 and feature internationally renowned academics, artists and intellectual innovators offering interviews, intimate conversations and select performances on topics ranging from art, literature and music to science, policy and politics.
"The festival will demonstrate the humanities — broadly defined as knowledge of humankind and its works — are stimulating, entertaining and vital to the life of the community. Carnegie Mellon has helped lead Pittsburgh into the 21st century and the Humanities Festival, modeled on Chicago's 25-year old example, is another step in the city's transformation into a capital of culture and innovation," said David Shumway, professor of English in CMU's Dietrich College of Humanities and Social Sciences and director of the Humanities Center.
Azar Nafisi, author of the bestseller "Reading Lolita in Tehran," will open the festival with "Humanities and the Future of Democracies" at 7 p.m., Thursday, March 26 at the Byham Theater. Nafisi will use her experience living in both Iran and America to illustrate why democratic societies need the humanities now more than ever.
Carnegie Mellon will be well represented at the festival. Chris Warren, assistant professor of English, will present "Six Degrees of Francis Bacon," a big data and digital humanities project he created that uses modern technology to recreate the early modern network to establish how people were connected. Warren will present his project at 10 a.m., Saturday, March 28 on the fourth floor of the Trust Arts Education Center.
Kiron Skinner, associate professor of social and decision sciences and director of the Center for International Relations and Politics, is a leading expert in international relations, international security, U.S. foreign policy and political strategy. Skinner is the co-author of The New York Times bestsellers "Reagan, in His Own Hand" and "Reagan, a Life in Letters." She will discuss Reagan's public and private life at 11:30 a.m., Saturday, March 28 on the fourth floor of the Trust Arts Education Center.
Carnegie Mellon historians Tim Haggerty and Harrison Apple, co-directors of the Pittsburgh Queer History Project, explore the world of Pittsburgh's gay social clubs from 1967 to 1990, making use of an extensive collection of photographs and material objects contributed by owners, employees, performers and patrons. The collection features publications, posters, announcements and newsletters that reflect a world that is disappearing: a twilight world of desire and camouflage that emerged in response to a culture that reacted to homosexuality with social criticism and legal prosecution. Haggerty, director of the Humanities Scholars Program, and Apple, artist in residence at the Center for the Arts in Society, will present their project at 1:30 p.m., Saturday, March 28 on the fourth floor of the Trust Arts Education Center.
Tim Dawson is a writer, theater artist, and Ph.D. candidate in rhetoric in CMU's Department of English. Formerly a program manager at Carnegie Mellon's Program for Deliberative Democracy, Dawson will talk about Deliberative Theater and the Art of Democracy. Deliberative Theater capitalizes on the theater's ability to concisely represent the various and complex ways that beliefs, situated knowledge and expert information can come together to inform different perspectives, competing policy proposals and people's actions on critical issues. Dawson's presentation will be at 1 p.m., Sunday, March 29 on the fourth floor of the Trust Arts Education Center.
George Takei, the most influential person on Facebook, will close the festival at 7 p.m., Sunday, March 29. at the Byham Theater. Takei is an actor, social justice activist, social media mega-power, star of the Broadway musical "Allegiance," and host of the AARP-produced YouTube series "Takei's Take," in which he explores the world of technology, trends, current events and pop culture.
With a career spanning five decades, Takei is known around the world for his founding role in the acclaimed television series "Star Trek," in which he played Hikaru Sulu, helmsman of the Starship Enterprise. Takei starred in three seasons of "Star Trek" and later reprised his iconic role in six movies.
In 2012, Mashable.com reported that Takei is the most influential person on Facebook. He currently has more than 7.2 million likes and more than 1.25 million followers on Twitter. Takei authored "Lions and Tigers and Bears: The Internet Strikes Back and "Oh Myyy! There Goes the Internet," released in e-book and paperback in 2012, and ranked 10th on The New York Times' E-book nonfiction list.
Additional speakers include Robert Myers, Kathleen Chalfant, Tonya Pinkins, Blake Gopnik, Cynthia Hopkins, John Sayles, Maggie Renzie and others.
View the complete Pittsburgh Humanities Festival schedule.
Festival passes and single tickets are on sale for the inaugural Pittsburgh Humanities Festival. To purchase tickets, visit TrustArts.org/SmartTalk or call 412-456-6666.
In addition to CMU's Humanities Festival and the Pittsburgh Cultural Trust, the Pittsburgh Humanities Festival is supported by the Pennsylvania Humanities Council, the Institute of Arts and Humanities at Penn State University, the Humanities Center of the University of Pittsburgh, the Humanities Scholars Program of Carnegie Mellon University, the University of Pittsburgh Law School, City of Asylum, The Andy Warhol Museum, WYEP/WESA and Carnegie Library of Pittsburgh.
For more information, visit TrustArts.org/SmartTalk.
###