February 12, 2015
Catch a Sneak Preview of Carnegie Mellon's International Film Festival Feb. 27
By Shilo Rea / 412-268-6094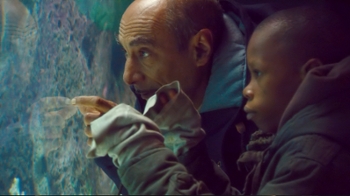 Carnegie Mellon University's International Film Festival will offer a sneak preview of the festival's 2015 award-winning lineup with "Song from the Forest." The German film about a musicologist from New York City who spends 25 years in the Congo will be shown at 6:30 p.m., Feb. 27 in McConomy Auditorium.
The film follows Louis Sarno as he abandons modern civilization to join the Bayaka people and start a family. Sarno continues with his music studies, compiling more than 1,000 hours of original Bayaka music, and then after 25 years returns to New York to show the city to his son.
The preview, held in conjunction with the Pittsburgh Humanities Festival, also will feature a Skype appearance by the film's writer and director, Michael Obert. Additionally, musical supervisor David Rothenberg will attend and participate in a panel discussion moderated by Robert Fallon, assistant professor of music in CMU's College of Fine Arts.
"The 2015 Carnegie Mellon International Film Festival's theme of 'Faces of Work' focuses on both the body and the soul of those who work," said Jolanta Lion, festival director and assistant director of CMU's Humanities Center in the Dietrich College of Humanities and Social Sciences. "Despite the limitless definition of work, we strive to explore work as passion in its unique and innumerable faces. 'Song From the Forest' encapsulates the theme by showing how being in a new world for 25 years influences a man's life and work. The film sets a high bar for the festival, which promises to be our best yet."
"Faces of Work" will run March 19-April 11 at various locations throughout Pittsburgh. The festival will feature 19 films and host many special guests, performances and related activities to each film's underlying message, something that has become a hallmark of Carnegie Mellon's International Film Festival.
The opening night feature will be "A Master Builder" at 7:15 p.m., March 19 at the Regent Square Theater. The film is an adaptation of a Henrik Ibsen play that was in rehearsal for Broadway for 14 years.
"It's a wonderful film about the human condition — meeting a dictatorial architect trying to justify the hardship he inflicted on others in order to achieve his success," Lion said.
Jonathan Demme, Oscar-winning director of the Pittsburgh-filmed "Silence of the Lambs," will be present for a Q&A session and a workshop.
In addition to the Pittsburgh Humanities Festival, a project between CMU's Humanities Center and the Pittsburgh Cultural Trust, the sneak preview of the 2015 International Film Festival is co-sponsored by CMU's Steinbrenner Institute for Environmental Education and Research, Center for African-American Urban Studies and the Economy (CAUSE) and the School of Music as well as the German Department at the University of Pittsburgh and Pittsburgh's Sembene Film and Arts Festival.
Tickets to the sneak preview cost $5 for seniors and students and $10 for general admission. For more information on the film festival, including schedules and pricing, visit http://www.cmu.edu/faces.
###
Pictured above is an image from "Songs from the Forest."