April 23, 2015
President Suresh Addresses University Challenges and Opportunities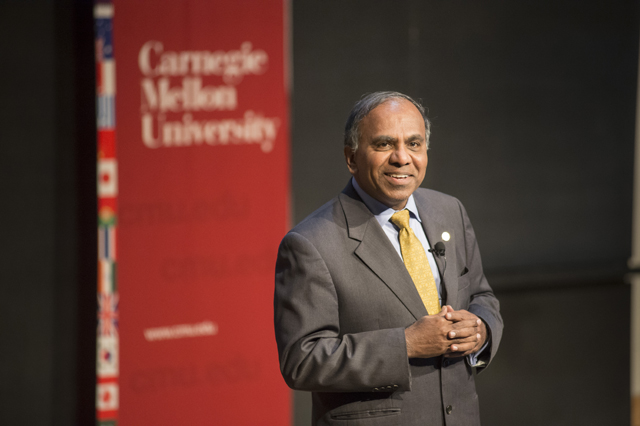 President Subra Suresh presented his first update on the university yesterday (April 22) to several hundred in McConomy Auditorium and to a global audience on a live webcast. He said he wants to close each academic year with a broad presentation while engaging in more of a Q&A town hall meeting in the fall.
Suresh highlighted numerous achievements he's seen during his nearly two years as president, crediting the CMU community for bringing to life the Simon and BrainHubSM initiatives, Presidential Fellowships and Scholarships, the ProSEED grant program and the Tepper Quad project.
He put those in a broader narrative of the university's trajectory that also included two initiatives announced through recent campus-wide emails leading up to his address: new endowed funds of $1 million each to support projects in the arts and humanities in which outside funding is scarce, and planning for new flexible space along Forbes Avenue.
The endowed funds would generate proceeds to support faculty research and creative works, and are intended to be a first step, and a challenge to continue raising money to support these faculty endeavors.
Suresh said he is optimistic about developing an innovation corridor along Forbes Avenue that would surpass any such hub between Silicon Valley and the East Coast.
The corridor would build on the university's strengths and momentum, and include several new infrastructure projects. The latest step involves seeking developers interested in partnering with the university on a major, mixed-use development located next to the museums. That facility would serve as a new gateway to the campus and could include research space, labs and studios to collaborate with external industry partners, office space, a hotel and retail space.