September 03, 2014
Press Release: Rock Star: Carnegie Mellon's David R. Shumway Explores the Making of Musical Icons From Elvis to Springsteen
Contact: Shilo Rea / 412-268-6094 / shilo@cmu.edu



PITTSBURGH—The musical icons of the past 60 years were not created overnight. Instead, many factors — from stage personas and outspoken political views to success in movies and television as well as timing — went into making legends.

In the new book "Rock Star: The Making of Musical Icons From Elvis to Springsteen," Carnegie Mellon University's David R. Shumway investigates the rock star as a particular kind of cultural construction, different from a mere celebrity. To do this, Shumway looks at the careers and cultural legacies of seven rock stars in the context of popular music and culture — Elvis Presley, James Brown, Bob Dylan, the Rolling Stones, the Grateful Dead, Joni Mitchell and Bruce Springsteen.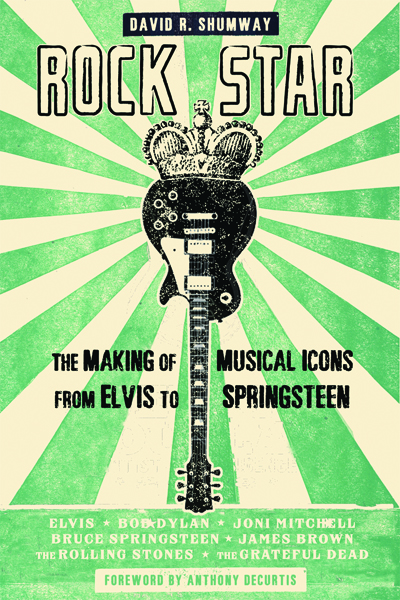 "All stars are celebrities, but not all celebrities are stars," said Shumway, professor of English and literary and cultural studies in the Dietrich College of Humanities and Social Sciences. "A star is someone who achieved something significant that requires skill."

An informal history of rock stardom, "Rock Star" looks at how changes in American society and the media industries allowed rock stars to have more political power than Hollywood's studio stars and gradually replaced movie stars as key cultural heroes, thriving in a variety of platforms. Rock stars became icons of change — though not always progressive — whose public personas read like texts produced by the performers themselves and their managers and record companies.
Shumway began thinking about rock star personas and their importance to selling an album when he reviewed music for Bloomington, Indiana's Herald-Telephone.

"Rock stars are different from actors like Cary Grant, Humphrey Bogart and Bette Davis because they don't present themselves as playing characters," Shumway said. "But their public personas are not identical to who they are in real life. For example, Bruce Springsteen, in real life, is highly successful. But his rock persona is of a working class guy who identifies with laborers and people who are down and out.

"There's always a gap between private and public personas, but what that persona means is what matters," he added.

Main takeaways from the book include how stardom — in general and as a cultural phenomenon — significantly changed in the 20th century; what went into making a rock star, from Elvis' unchartered career path to those who followed in his footsteps; and that stardom matters economically, aesthetically and politically. Shumway sees the era of the great rock stars as ending because of the rise of the Internet and of niche media replacing mass media.

Published by Johns Hopkins University Press, "Rock Star" contains a forward written by Anthony DeCurtis, a contributing editor at Rolling Stone. DeCurtis wrote, "[Kurt Cobain] marked something like the end point of rock stardom, the point when even actual rock stars rejected the role . . .. Which may be fortunate, since it seems to be disappearing anyway, as Shumway argues in this smart, provocative, and emotionally charged book. I'd hate for that to be true, but in the worlds of media and culture we're in the grips of changes as profound as any since the invention of the printing press. In that enormous context, the loss of rock stardom may seem trivial. But, as the old pre-rock era Gershwin song says, 'not for me.'"

Watch Shumway discuss "Rock Star: The Making of Musical Icons From Elvis to Springsteen" in this video: http://youtu.be/_P7PR1WvEJE.

For more information on "Rock Star," visit https://jhupbooks.press.jhu.edu/content/rock-star.
     
Related Article:
David R. Shumway Examines Filmmaker John Sayles and the Politics of American Cinema

###