November 21, 2014
Go Behind the Scenes at Carnegie Mellon School of Art Open Studio, Dec. 5
Meet Emerging Artists and Buy Art for the Holidays
By Pam Wigley / 412-268-1047 / and Lauren Goshinski /  412-268-1533                         

PITTSBURGH—The School of Art at Carnegie Mellon University will host its seventh annual Open Studio from 5-10 p.m., Friday, Dec. 5, in the College of Fine Arts building. Free and open to the public, this event offers a behind-the-scenes look at more than 50 undergraduate and graduate artist studios with work-in-progress spanning sculpture, painting, video, gaming, performance, interactive art and more.

A holiday art sale, interdisciplinary project presentations, and reception with food, drink and music from WRCT 88.3FM DJs, and a live band round out the night.

RSVP on Facebook
Share your experience! #cmuopenstudio
Twitter @CMUSchoolofArt / Instagram @cmuart

Preview what's in store on the Open Studio Tumblr with links to artist portfolios and video profiles: http://cmuopenstudio.tumblr.com.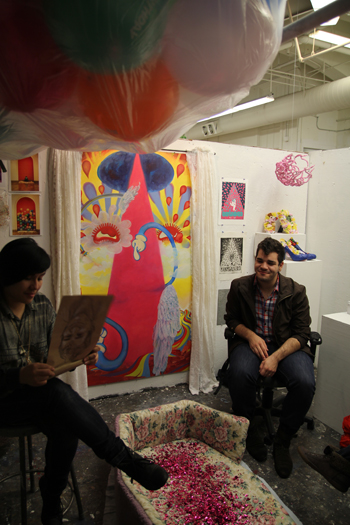 VIDEO PROFILES:
Meet - Justin Old
Meet - Mishq Laliwala
Meet - Nicole Anderson

Schedule of events:
5-10 p.m. Studio Tours, Art Sale, Class Project Presentations - CFA 3rd & 4th floors
Junior, senior and MFA students open their doors to the public, while a school-wide art sale features a broad selection of finished work for sale from students across all years.

5-6:30 p.m. BXA Freshman Presentations - CFA Room 303
"Remixing the Wunderkammer" is the culmination of a semester spent thinking about the interdisciplinary nature of creative and scholarly life, exploring topics such as representation across media, remix and adaptation, dream logic and reality, aesthetic vocabularies, collections and curation, intellectual property and the instability of meaning.

6:30 p.m. Reception - CFA 4th Floor
With WRCT 88.3FM DJs  k r a e j i , Salem, Alphonse, DavisGalvin and live improvisational jazz trio Ada.

7-10 p.m. Building BXA Lounge - Exhibition & Builder's Presentation - CFA Lower Level South Stairwell
This collaborative installation by students in BXA Intercollege Degree Programs is an interactive pop-up lounge for the campus community. It is dedicated to interdisciplinary exploration at the intersection between artistic and academic scholarship. The Building BXA Lounge will be open from December 2-12.

###
More than 50 student art studios will be open to public from 5-10 p.m., Friday, Dec. 5 in the College of Fine Arts building. Pictured above: Jessica Aguero's studio, Open Studio portrait sessions, 2013.