July 24, 2014
Press Release: Carnegie Mellon University in East Africa Graduates First Class
Contacts: Sherry Stokes  / 412-268-5976 / stokes@cmu.edu
                Tara Moore / 412-268-9673 / tararaemoore@cmu.edu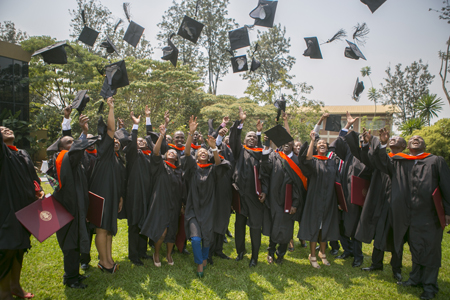 PITTSBURGH—Carnegie Mellon University's first class in East Africa graduated on July 24, all with master's degrees in information technology (IT). The ceremony, recognizing 22 students, took place at the Serena Hotel, in Kigali, Rwanda.
In 2012, Carnegie Mellon became the first U.S. university to offer a master's degree program taught by full-time faculty residing in Africa. The program, reflecting Carnegie Mellon's goals of elevating global intellectual and economic vitality, was initiated by the Government of Rwanda in response to recommendations issued by the International Telecommunication Union, the United Nations agency for information and communication technologies, to establish Centers of Excellence throughout Africa to advance the science and technology skills required to develop Africa.
"Being present in Africa is the only way to understand the region's challenges and opportunities. Delivering our engineering master's program in East Africa makes it possible for students to analyze problems and develop solutions in the context in which they occur," said Bruce Krogh, director of Carnegie Mellon's program in East Africa.
Graduating this first class is a landmark step and underscores the commitments of Carnegie Mellon and the Government of Rwanda to educate technically strong engineers and entrepreneurs who will make an economic impact in East Africa.
Carnegie Mellon students receive the same world-class education and experience in Africa as they would in the United States, providing them with the advanced technical and professional skills that industry and prospective employers value. Partnerships with regional companies and multinational corporations, including General Electric, IBM, Marriott, Microsoft, VISA and Voxiva, ensure students gain experience relevant to Africa through industry-sponsored internships, practicums and research projects.
The technology landscape is changing rapidly in Africa. Sub-Saharan Africa is undergoing healthy economic growth. According to the International Monetary Fund (IMF), its gross domestic product (GDP) grew 6.5 percent in 2013, and growth in East Africa is expected to remain strong.
"If Africa's best students leave to study abroad for two years, they lose valuable time for starting careers. By studying at CMU in Africa, students remain plugged into the region's evolving business and education network, ensuring they have access to stronger career opportunities while supporting local economic growth," Krogh said.
"Our graduating class is filled with remarkable young men and women who are ready to enter industry or become entrepreneurs. We are excited about their potential to make significant contributions to IT in East Africa and the world," said James H. Garrett Jr., dean of Carnegie Mellon's College of Engineering.
In Africa, Carnegie Mellon offers two graduate degree programs: its founding program, the Master of Science in Information Technology, and the Master of Science in Electrical and Computer Engineering launching in August. The program currently has 43 students and eight faculty members. Research areas include energy systems and IT for health care and business.
###
CMU-Rwanda's 22 graduates (pictured above) celebrate after receiving their master's degrees in information technology. In 2012, CMU became the first U.S. university to offer a master's degree program taught by full-time faculty residing in Africa.