July 21, 2014
Media Advisory: Carnegie Mellon's Kathy Newman Reflects on 60th Anniversary of "On the Waterfront" and How Oppressive Working Conditions Still Plague Labor Workers
Contact:
Shilo Rea / 412-268-6094 /
shilo@cmu.edu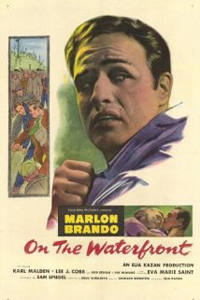 The Story:
"On the Waterfront,"
the Academy Award-winning film about an ex-prize fighter turned longshoreman who stands up to his corrupt union bosses, is celebrating its 60th anniversary this week. Starring Marlon Brando, Eva Marie Saint, Karl Madden and other iconic actors, the film, widely considered to be one of the best ever made, also was surrounded in political controversy. Most people believe that Director Elia Kazan made the movie in response to those who condemned him for naming former communists working in the film industry before the 1952 House Committee on Un-American Activities (HUAC).
Carnegie Mellon University's
Kathy M. Newman
, a labor issues expert, reflects on the film in
"Revisiting 'On the Waterfront,'"
an opinion piece published in "Jacobin Magazine." Newman, associate professor of
English
in the
Dietrich College of Humanities and Social Sciences
, notes that the movie's central theme — oppressive and dangerous working conditions for dock and other laborers — still persists today.
"For most people 'On the Waterfront' is just a great film, but if you go deeper and know how Kazan snitched on his friends and made the politically conscious movie to justify actions that can't be justified, it becomes much more," Newman said. "But even more so, that view pushes aside the real fundamental labor problems that it brought to life — some that still plague dock and other labor workers. We've lost sight of the film's true origins, which were trying to do something to get Americans focused on the dangerous working conditions and unfair hiring processes that led to corruption."
Newman points to the recent Los Angeles dock and truck driver strike and how the waterfront is both a site and symbol for America even today.
For more information, read "Revisiting 'On the Waterfront'" at
https://www.jacobinmag.com/2014/07/revisiting-on-the-waterfront/
.
Availability:
Newman is available for phone, Skype or radio interviews to share more on these topics.
###