January 30, 2014
Press Release: Carnegie Mellon Faculty and Ph.D. Student Named Winners of Carnegie Science Awards
Former President Jared Cohon To Receive the Chairman's Award
Contacts: Jocelyn Duffy / 412-268-9982 / jhduffy@andrew.cmu.edu
                Chriss Swaney / 412-268-5776 / swaney@andrew.cmu.edu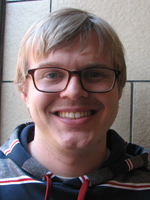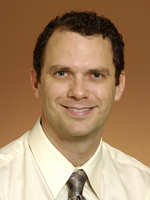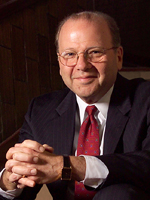 PITTSBURGH—Carnegie Mellon University President Emeritus Jared L. Cohon (right) and University of Pittsburgh Chancellor Mark Nordenberg will receive the Carnegie Science Center's highest honor, the Chairman's Award, at the center's Awards for Excellence banquet on May 9.
Additionally, Jay Whitacre (above, middle), professor of materials science and engineering and engineering and public policy, was named the recipient of the Advanced Materials Award, and Taylor Canady (above, right), a doctoral student in the Department of Chemistry, was named winner of the University/Post-Secondary Student Award.
The Carnegie Science Center is honoring Cohon, University Professor of Civil and Environmental Engineering and Engineering and Public Policy, and Nordenberg for forging a strong collaboration between Carnegie Mellon and Pitt that helped the universities and Pittsburgh excel in science, entrepreneurship and academics. According to the Science Center, joint programs, like the Pittsburgh Supercomputing Center, the Quality of Life Technology Center, the Digital Greenhouse, the Pittsburgh Life Sciences Greenhouse and the Robotics Foundry have attracted billions of dollars in grants and sponsorships to the Pittsburgh region, drawn numerous talented academics and professionals to the area, and made Pittsburgh a hotbed for cutting-edge research.
Whitacre is being honored for developing a novel sodium-ion battery that can be made using low-cost materials and manufacturing techniques. The technology has resulted in a spinoff venture, Aquion Energy, which is anticipated to grow into a 300-person enterprise by 2015. Whitacre also received an honorable mention for the Start-Up Entrepreneur Award.
Canady is being recognized for his outreach efforts. As part of Carnegie Mellon's Center for Nucleic Acids Science and Technology's DNAZone outreach program, Canady helped to develop a hands-on kit that helps K-12 students learn about DNA. He also conducts research on the synthesis of nucleic acid molecules that can be used to study mRNA translation in cells.
In addition, alumnus Ronald Bianchini (E'83,'86,'89), co-founder, president and CEO of Avere Systems, was named the winner of the Information Technology Award. Entertainment Technology Center Professor Jesse Schell received an honorable mention Entrepreneur Award for Schell Games, and Associate Professor of Computer Science Luis Von Ahn received an honorable mention Entrepreneur Award for Duolingo. 
     
###