January 10, 2014
Press Release: Carnegie Mellon's Jessica Zhang Wins Presidential Early Career Award in Science
Mechanical Engineering Professor Recognized by White House for Leading-edge Research
Contact: Chriss Swaney / 412-268-5776 / swaney@andrew.cmu.edu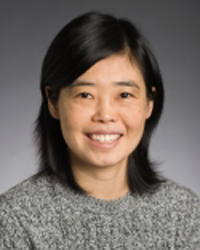 PITTSBURGH—Carnegie Mellon University's Jessica Zhang has won the Presidential Early Career Award for Scientists and Engineers (PECASE), the highest honor the government bestows on science and engineering professionals. Winners will get their awards later this year in Washington, D.C.
"This is a wonderful award, and I'm thrilled to be honored by such a prestigious designation," said Zhang, one of 102 researchers nationwide to receive the accolade.
The 40-year-old associate professor of mechanical engineering received her award on behalf of the Defense Department. She is developing novel techniques to build computer models for analyzing the best design of a ship for the Navy.
The awards, established in 1996 by President Clinton, are coordinated by the Office of Science and Technology Policy within the Executive Office of the President. Awardees are selected for their pursuit of innovative research at the frontiers of science and technology, and their commitment to community service as demonstrated through scientific leadership, public education or community outreach.
"This is a well-deserved honor for such a hardworking and creative researcher who continues to push the boundaries of innovation and pioneering engineering techniques," said Allen L. Robinson, the Raymond J. Lane Distinguished Professor in Mechanical Engineering and head of CMU's Department of Mechanical Engineering.
Zhang grew up in the Henan province of central China and received a doctoral degree in computational engineering and science from the University of Texas in Austin. She came to CMU in 2007 and has co-authored more than 100 journal and conference publications, along with four book chapters.
Other recent CMU engineering faculty members receiving this award include David Brumley, an assistant professor in the Electrical and Computer Engineering Department, and John Kitchin, an associate professor in the Department of Chemical Engineering with a courtesy appointment in the Department of Materials Science and Engineering. Brumley was a 2010 winner for vital research involving malicious software (malware) analysis. Kitchin was recognized in 2012 for work with his team in developing an electrochemical separation method for separating oxygen from air at ambient pressure and temperature.
                    
###
Jessica Zhang (pictured above), an associate professor of mechanical engineering, is developing novel techniques to build computer models for analyzing the best ship design for the U.S. Navy.