April 18, 2014
Press Release: Carnegie Mellon Senior Art Students Present Final Exhibition; "Actual Size" Opens May 2 at Miller Gallery on Campus
Contacts: Pam Wigley / 412-268-1047 / pwigley@andrew.cmu.edu
                Lauren Goshinski / 412-268-1533 / laurengo@andrew.cmu.edu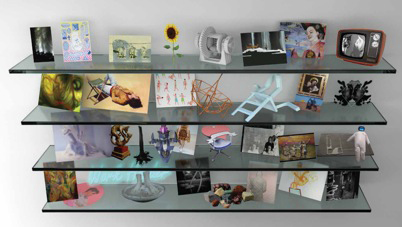 PITTSBURGH—Forty-three students graduating with bachelor's degrees in fine art and interdisciplinary art (humanities and art, science and art, and computer science and art) present their final work in "Actual Size" at Carnegie Mellon University's Miller Gallery.
The exhibition opens with a reception at the gallery from 6 - 8 p.m., Friday, May 2. The exhibition will be on view through May 17, with artist and faculty talks at the gallery from 1 - 4 p.m., Tuesday, May 6. Admission is free and open to the public.
The student-named exhibition spans video, performance, drawing, printmaking, photography, painting, sculpture, interactive and code-based works and more.
Exhibiting artists are: Adelaide Agyemang, Marie Barcic, Ashley Baron, Michael Bennett, Andrew Bueno, Lynda Choi, Zechariah Choi, Adelaide Cole, Christina Conway, Melanie Danver, Cristina David, Hank Ehrenfried, Robb Godshaw, Claire Gustavson, Kayla Heglas, Fabienne Hudson, Michael Importico, Sarah Keeling, Danielle Kogan, Keith Lafuente, Lazae Laspina, Alexander Lee, Christina Lee, Justin Lin, Lorena Lopez, Janet Lorenz, Eric Mackie, Alex Mallard, Anna Mohr, Ryan Murray, Anna Nelson, Max Perim, Caroline Record, Lauren Ruoff, Matt Sandler, Anna Shepperson, Stephanie Shulman, Jenny Soracco, Rachel Tadeu, Nathan Trevino, Mitsuko Verdery, Nico Zevallos and Andres Zighelboim.
The Bachelor of Fine Arts degree addresses many issues facing the contemporary artist and aims to develop each student's commitment, knowledge and creative skills necessary to work in a rapidly changing global culture.

The BXA Intercollege Degree Programs, in which students may choose from three degree-granting programs: Bachelor of Humanities and Arts (BHA), Bachelor of Sciences and Arts (BSA), and Bachelor of Computer Science and Arts (BCSA), has been steadily growing during the past several years, and enables students the freedom to individualize their educational experience by focusing on the three primary components of integration, balance and innovation.

Those elements and more are on display in the senior artists' work at the Miller Gallery, Carnegie Mellon's award-winning, critically acclaimed contemporary art gallery located in the Purnell Center for the Arts on campus.

The gallery is free and open to the public from noon to 6 p.m., Tuesday through Sunday. More information on "Actual Size" is available at http://millergallery.cfa.cmu.edu/exhibitions/seniorart2014.

###