September 04, 2013
Media Advisory: The Social Change Semester ... and the Future of Global Education at Carnegie Mellon
Contact:
Shilo Rea / 412-268-6094 /
shilo@cmu.edu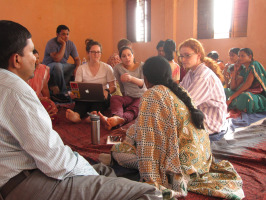 Event:
Last spring, Associate History Professor
Nico Slate
and Emily Mohn-Slate, a special instructor in the
English Department
, led a group of students on a trip to Qatar and India for the first Carnegie Mellon University
Social Change Semester.
Their goal was to learn how to make positive changes in the world, and throughout the semester, students took courses and conducted research, while designing and implementing service projects in collaboration with local partners.
Slate, Mohn-Slate and several students who participated in the program will share their experiences with service-based study abroad and discuss the future for the program at an event titled "The Social Change Semester ... and the Future of Global Education at Carnegie Mellon."
"By directly engaging in the many challenges and opportunities facing Qatar and India, students gain the confidence, purpose, global awareness and intercultural skills that are best learned via service-based experiential education overseas," Slate said. "We hope this semester can serve as a model for future service-based semesters abroad, here at CMU and elsewhere."
The Spring 2013 trip began in Doha, Qatar, where the CMU students taught English to migrant workers from South Asia. In exchange, they learned about the inequalities of travel in order to recognize the privilege of studying abroad in a world where many only travel out of necessity.
Next, the group traveled to rural central India, where they worked with the Kamalnayan Jamnalal Bajaj Foundation, a development organization that aims to carry forward Gandhi's legacy. They assisted the Bajaj Foundation with projects in water management, alternative energy, women's empowerment, sustainable agriculture and village industries.
The trip ended in one of India's largest cities, Chennai. There, the CMU group partnered with educational organizations that focused on educating and empowering underprivileged children: the Avanti Fellows and Visions for Global Empowerment.
Students who participated in the inaugural Social Change Semester came from various educational backgrounds, with majors including global studies; professional writing; business administration; international relations and politics; ethics, history and public policy; information systems; biology; and Japanese Studies. They, along with Slate and Mohn-Slate, blogged about their experiences at
http://socialchangesemester.org/
.
When:
4:30 - 6 p.m., Tuesday, Sept. 10
Where:
Steinberg Auditorium, Baker Hall A53, Carnegie Mellon University        
###
Last spring, Nico Slate and Emily Mohn-Slate led a group of students on a trip to Qatar and India for the first Carnegie Mellon Social Change Semester with a goal of making positive changes in the world. They will share their experiences from 4:30 - 6 p.m., Tuesday, Sept. 10.