October 17, 2013
Press Release: Carnegie Mellon Alumnus Writes "Night of the Living Dead - The Opera"
Stephen Catanzarite To Speak at CMU Oct. 29
Contact: Shilo Rea / 412-268-6094 / shilo@cmu.edu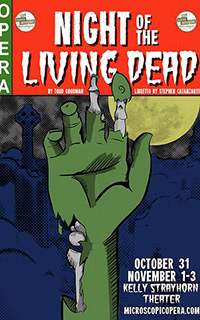 PITTSBURGH—There is good news for Pittsburghers who can't get enough of all-things zombies. The world premiere of "Night of the Living Dead — The Opera" will be held Oct. 31 — Nov. 3 at Pittsburgh's Kelly Strayhorn Theater. Carnegie Mellon University alumnus Stephen Catanzarite (DC'90) wrote the opera's libretto and will speak on campus at 4:30 p.m., Tuesday, Oct. 29 in the Gladys Schmitt Creative Writing Center (Baker Hall 260).
"Night of the Living Dead — The Opera" is based on the pop culture classic film by CMU alumnus George Romero, who studied art, design and theater at what was then Carnegie Institute of Technology. Todd Goodman, often referred to as "one of America's promising young composers," wrote the music. Microscopic Opera, founded by CMU alumni Erica Olden (A'97, '01) and Andres Cladera (A'03), is presenting the premiere event. Other CMU connections include the opera's director, Greg Lehane, professor of drama in the College of Fine Arts, and scenic designer Briton Mauk (A'13).
Catanzarite received his bachelor's degree in creative writing from the Dietrich College's Department of English. He is the founder and chief executive officer of Baden Academy Charter School and author of "Achtung Baby: Meditations on Love in the Shadow of the Fall." Catanzarite was first approached about the "Night of the Living Dead" project while he was in his previous role of managing director of the Lincoln Park Performing Arts Center.
"At opening night of 'Ballet du Bond,' a dance show I wrote and produced based on John Barry's themes for the early James Bond films, Bill Hinzman came up and introduced himself to me as a filmmaker and prototypical zombie," Catanzarite said. "Bill played the cemetery ghoul in the beginning of 'Night of the Living Dead' and asked me what I thought about turning the film into a musical. Not convinced the film's spirit could be captured by show tunes, I eventually convinced Bill and Todd that we should adapt it as a serious opera."
CMU's chapter of Sigma Tau Delta, the international English honor society, will host Catanzarite for a talk on the importance of good writing.
"When you can write well, you have a lot of power — you are able to communicate ideas, share passions and interests and inform and persuade others," he said. "My life has taken a lot of unexpected turns, and my ability to write has helped me negotiate each and every twist."
Jim Daniels, the Thomas Stockham Baker Professor of English and Sigma Tau Delta faculty adviser, is enthusiastic about the advice Catanzarite can offer CMU's English students or anyone interested in writing.
"Stephen has had an amazing career, combining his interests in writing and music in exciting, innovative ways while also becoming a leader in arts education," Daniels said. "We're delighted to have him returning to share his experiences with our students."
Catanzarite credits his successful career as a writer and educator to his training at Carnegie Mellon.
"The writing program gave me a lot of confidence in my natural abilities and helped me refine my skills. Being in the presence of great writers and teachers like Jim Daniels, Hilary Masters and Sharon Dilworth — as well as my fellow students — pushed me to do and be better," he said.
Catanzarite's talk at CMU is free and open to the public. For more information on "Night of the Living Dead — The Opera," visit http://kelly-strayhorn.org/events/night-of-the-living-dead-the-opera/.
###
The world premiere of "Night of the Living Dead — The Opera" (poster pictured above) will be held Oct. 31 through Nov. 3 at Pittsburgh's Kelly Strayhorn Theater.