May 01, 2013
Press Release: Carnegie Mellon Senior Art Students "Feeling Lucky" in Final Exhibition, May 3-18, at Miller Gallery
Contacts: Pam Wigley / 412-268-1047 / pwigley@andrew.cmu.edu
Lauren Goshinski / 412-268-1533 / laurengo@andrew.cmu.edu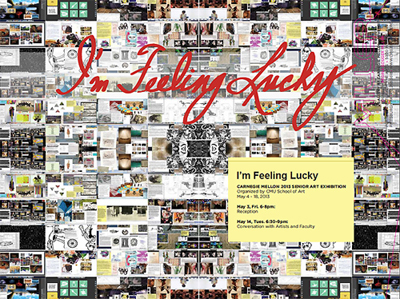 PITTSBURGH—Thirty-three students graduating with bachelor's degrees in fine arts and interdisciplinary arts present their final work in "I'm Feeling Lucky," opening from 6 to 8 p.m., Friday, May 3 at Carnegie Mellon University's Miller Gallery. The exhibition will be on view through May 18, with a talk with artists and faculty from 6:30 to 9 p.m. Tuesday, May 14. Admission is free and open to the public.
The student-named exhibition invites the public to "browse our art collection, surf our web of works," which span video, performance, drawing, printmaking, photography, painting, sculpture, multi-media installation, digital art and more.
Exhibiting artists are: Jessica Aguero, Derek Anderson, Harrison Apple, Elizabeth Brophy, Lelia Byron, Sarah Ceurvorst, Mirrie Choi, Molly Cook, Emma Eichner, Lauren Faigeles, Sondra Hart, Max Hawkins, Allison Huey, Rachel Jonas, Marine Kambara, Eunhee Kang, James Krahe, Alexine La Sala, Caroline Landau, Paul Miller, Chloe Newman, Emma Olsen, Aaron Regal, Stephanie Ross, Alexander Rothera, Shephaly Soni, Claire Sullivan, Carolyn Supinka, Mary Tsang, Rachel Wagner, Carter Warren, Courtney Wittekind and Emily Wobb.
Carnegie Mellon's Bachelor of Fine Arts degree addresses many issues facing the contemporary artist and aims to develop each student's commitment, knowledge and creative skills necessary to work in a rapidly changing global culture. The BXA Intercollege Degree Programs — Bachelor of Humanities and Arts, Bachelor of Science and Arts, and Bachelor of Computer Science and Arts — have been steadily growing in enrollment during the past several years as prospective and current students recognize they may individualize their educational experience by focusing on the three primary components of integration, balance and innovation.
Those elements and more are on display in the senior artists' work at the Miller Gallery, Carnegie Mellon's award-winning, critically acclaimed contemporary art gallery in the Purnell Center for the Arts on the Pittsburgh campus. Admission to the gallery is free and open to the public from noon to 6 p.m. Tuesday through Sunday.
More information on "I'm Feeling Lucky" is available at http://www.cmu.edu/millergallery/exhibitions/seniorart2013.
###