March 25, 2013
Press Release: ACS To Recognize Carnegie Mellon University's Mellon Institute for Landmark Contributions to Chemistry
Contacts: Jocelyn Duffy / Carnegie Mellon / 412-268-9982 / jhduffy@andrew.cmu.edu
Keith Lindblom  / American Chemical Society / 202-872-6214 / k_lindblom@acs.org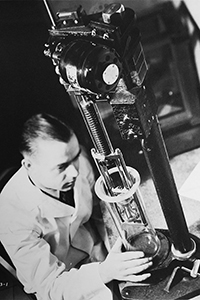 PITTSBURGH—Cellulose hot-dog casings, World War I gas masks, silicone rubber and investigations into air pollution.

While they don't appear to have anything in common, these and numerous other developments are products of research conducted at the Mellon Institute of Industrial Research, an internationally renowned nonprofit research laboratory that operated in Pittsburgh for more than 50 years. Established in 1913, the Mellon Institute merged with Carnegie Tech in 1967 to form Carnegie Mellon University (CMU).

CMU and the American Chemical Society (ACS) will celebrate the Mellon Institute of Industrial Research as a National Historic Chemical Landmark in recognition of its numerous research accomplishments and legacy of scientific training. A ceremony will be held at 3:30 p.m., March 28 in the Mellon Institute Conference Room.

"The Mellon Institute was a workhorse of industrial research and training in America," said Tom Barton, president-elect of the American Chemical Society. "Mellon Institute fellows were both scientists and innovators, an altogether too-rare combination. Through the results of their pioneering research, American industry became further sold on the practical benefits of science to develop new products, grow companies and solve essential problems. This produced an industrial dominance for the U.S., and its continuation will undoubtedly be the source of our bright economic future."

Inspired by the writings of Robert Kennedy Duncan, a leading proponent of the industrial fellowship system, brothers Andrew W. and Richard B. Mellon established the Mellon Institute of Industrial Research in 1913 to conduct comprehensive scientific investigations that would serve industry and benefit mankind through the development of industry.

Originally housed on the University of Pittsburgh's campus, the Mellon Institute of Industrial Research moved into the columned Mellon Institute building in 1937. Located at the intersection of Fifth and Bellefield avenues in the Oakland section of Pittsburgh, the building is now home to CMU's Mellon College of Science Dean's Office, departments of Biological Sciences and Chemistry and numerous research laboratories.

"Connecting academia with industry is as important today as it was when the Mellon Institute of Industrial Research was founded 100 years ago," said Mark Kamlet, CMU provost and executive vice president. "At Carnegie Mellon, we are committed to building on the institute's legacy by promoting a culture of scientific innovation and entrepreneurship."

The event will include a panel on scientific entrepreneurship, featuring speakers from both CMU and the University of Pittsburgh. A schedule of conference activities is available at www.chem.cmu.edu/mi-landmark.

ACS established the National Historic Chemical Landmarks program in 1992 to recognize seminal events in the history of chemistry and to increase awareness of the contributions of chemistry to the well-being of society. Other Pittsburgh-area developments recognized through this program have included the commercial production of aluminum by Alcoa, Inc., the development of the Pennsylvania oil industry and the legacy of Rachel Carson's Silent Spring. For more information about the program, visit www.acs.org/landmarks.

The American Chemical Society is a nonprofit organization chartered by the U.S. Congress. With more than 163,000 members, ACS is the world's largest scientific society and a global leader in providing access to chemistry-related research through its multiple databases, peer-reviewed journals and scientific conferences. Its main offices are in Washington, D.C., and Columbus, Ohio.

Carnegie Mellon (www.cmu.edu) is a private, internationally ranked research university with programs in areas ranging from science, technology and business, to public policy, the humanities and the arts. More than 12,000 students in the university's seven schools and colleges benefit from a small student-to-faculty ratio and an education characterized by its focus on creating and implementing solutions for real problems, interdisciplinary collaboration and innovation. A global university, Carnegie Mellon's main campus in the United States is in Pittsburgh, Pa. It has campuses in California's Silicon Valley and Qatar, and programs in Africa, Asia, Australia, Europe and Mexico. The university is in the midst of "Inspire Innovation: The Campaign for Carnegie Mellon University," which aims to build its endowment; support faculty, students and innovative research; and enhance the physical campus with equipment and facility improvements.

###

A historical photo from the Mellon Institute above shows an unidentified scientist conducting work as part of a petroleum fellowship.