January 10, 2013
Press Release: Outrage! New Carnegie Mellon Book Explores Art, Controversy and Society
Contact: Shilo Rea / 412-268-6094 / shilo@cmu.edu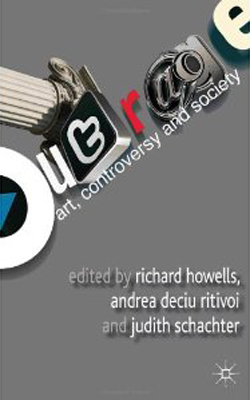 PITTSBURGH—One of the first projects formed through Carnegie Mellon University's Center for the Arts in Society (CAS) focused on the role art controversies play in the public. The results of the multi-year work by CMU faculty and other experts have been captured in a new scholarly book, "Outrage! Art, Controversy, and Society."
Edited by Carnegie Mellon's Andreea Deciu Ritivoi and Judith Schachter, along with Richard Howells of King's College London, "Outrage!" examines art controversies and how they are shaped by, and shape, a social context. The volume includes essays by 17 contributors — most with a direct connection to CMU — in fields ranging from art and visual studies to philosophy, literature and social sciences. It also carefully analyzes and attempts to define the concepts of "controversy" and "public" across cultures.
"Until now, there has not been a contribution to the study of public art controversy in an international perspective," said Ritivoi, associate professor of English. "The volume includes case studies from different cultures, such as Germany, Spain and Ireland. And, there is an historical dimension, so it is not just focused on present day issues."
Schachter, professor of anthropology and history, noted that what makes "Outrage!" unique were the discussions that occurred before contributors submitted their essays. "The Controversy group at Carnegie Mellon met in a workshop setting for several years, debating the issues around art in society that ultimately frame the diverse pieces in the book and lend them strong interconnections," she said.
By offering both contemporary and historical case studies, "Outrage!" allowed authors to trace historical roots of contemporary phenomena that would have otherwise been taken for granted — for example, understanding the role the media play in an art controversy and the significance of censorship for the presentation and preservation of cultural objects.
Stephen Brockmann, professor of German at CMU, wrote "Tracing Controversy in East German Film," which looks at East Germany in the 1960s when the communist government banned the production of films due to concerns over embedded political messages. The essay shows that artists could not do much against a powerful and repressive state, but their works were nevertheless influential for the subsequent history of German film.
In comparison, CMU Art Professor Lowry Burgess writes about the power of art — and its consequent vulnerability to destruction during national and international conflicts — and the necessity of protecting this particular manifestation of human creativity. In another essay, Duquesne University Philosophy Professor Fred Evans suggests how decisions about art in a city park can preserve the ideal of democracy, thus underlining the power of an object to engage values in its context.
Two essays in particular illustrate how the role that the media play in art controversy is different in different cultures. In "Recruiting and Nominating Participants for the Brooklyn Museum Controversy: The Contributions of New York City Print Journalists," Peter A. Cramer, assistant professor at Simon Fraser University, looked at the key participants in the debate over the "Sensation" exhibit, which showed works from the collection of British advertising magnate Charles Saatchi along with mock health warnings. Former Mayor Rudy Giuliani threatened to defund the museum over the exhibit, and it received prominent attention in The New York Times and other city publications. Cramer uncovered a dynamic between what Giuliani said and how the media, specifically The New York Times, covered the public event.
Ritivoi's essay focused on "The Nation's Cathedral: Public Art and Competing Memories in Post-Communist Romania." In it, she examines three newspapers and the conversation that was created out of the combined media coverage.
"What I found was that there was a framed discussion from the very beginning," Ritivoi said. "The public had become bombarded with hand-picked messages."
In addition to Ritivoi, Schachter, Brockmann and Burgess, Carnegie Mellon contributors to "Outrage!" include: Jennifer Keating-Miller, adjunct professor of English; Jon Klancher, associate professor of English; Franco Sciannameo, associate dean of the College of Fine Arts; Melissa Ragona, associate professor of art; and Albrecht Funk, visiting instructor of history. Andrew Ellis Johnson, associate professor in the School of Art, participated in all workshop discussions and designed the cover that captures the complexities of the subject as well as brings attention to the contents.
Other authors with CMU connections include Howells, who was a Distinguished Visiting Professor in CAS, and Carrie Ruiz, a former assistant professor of Modern Languages.
To celebrate the publication of "Outrage!" there will be a book launch and signing event at 4:30 p.m., Wednesday, Jan. 23 in the University Center's Danforth Lounge.
CAS is a research center in the Dietrich College of Humanities and Social Sciences and College of Fine Arts that investigates the role of arts in societies. For more information, visit http://www.cmu.edu/cas/.
To learn more about interdisciplinary research within the humanities at Carnegie Mellon, watch this video: http://youtu.be/DFdHcQN-Chs.
   
###