January 29, 2013
Press Release: Carnegie Mellon Mechanical Engineering Students Are Finalists in ImagiNations Design Competition
Contact: Chriss Swaney / 412-268-5776 / swaney@andrew.cmu.edu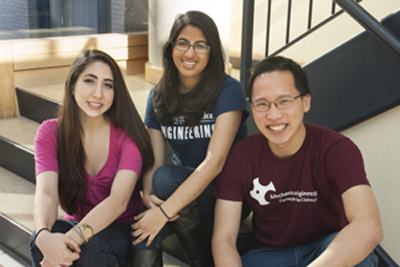 PITTSBURGH—A team of Carnegie Mellon University mechanical engineering students are among six finalists to compete in a nationwide design competition this week (Jan. 28 - Feb. 1) created by Walt Disney Imagineering to promote diversity and showcase design skills.
CMU's Laura Laham, Andre Sutanto and Anisha Vyas join Jane Liu of the Art Center College of Design in California to showcase a new interactive adventure that tells a compelling story.
"We are extremely excited about this competition because we have so much passion for our entry, which is designed to tell a dynamic story through cutting-edge technology," said Laham, a senior from Brooklyn, N.Y.
The finalist teams were awarded a five-day, all-expense-paid trip to Imagineering headquarters in Glendale, Calif.  Each team will be judged on a variety of factors including their ability to collaborate across different disciplines and backgrounds, the mastery of their individual skills, and the ability to tell an engaging story.
Competition officials report that the finalists have a unique opportunity to present their projects to senior Imagineering executives, meet and network with technical and creative imagineers, go behind the scenes where Disney magic is created, and interview for paid internships. Although the projects presented are not necessarily intended to be built by Disney, it serves as a way to seek out new and innovative thinkers to become the imagineers of the future.
The CMU team is showcasing an interactive adventure called "Legenda Emas." The Legenda Emas attraction is an interactive boat ride that follows a betrothed prince and princess, and a jealous witch who wished to keep them apart. The ride, based on an Indonesian legend, seeks to create an immersive experience by placing guests into the story as volunteers of the royal search party.
"It has taken several iterations to make this attraction both dynamic and robust, but we have used our engineering knowledge, great teamwork and lots of persistence to achieve our goal," said Sutanto, a senior from Bandung, Indonesia.
Vyas, the CMU team captain and senior from Naperville, Ill., praised her teammates for great collaboration, innovation and resilience. "We've spent a lot of late nights working on this project, but we all hope to work in the field of entertainment technology in the future," said Vyas, who recently designed a three-unit course at CMU on themed entertainment.
Liu, the fourth team member, is a sixth-term undergraduate entertainment design student at Art Center College of Design in Pasadena.
In addition to CMU, the other five competing teams are from the Art Center College of Design, California State University at Long Beach, Savannah College of Art & Design, the University of California at Berkeley and the University of Minnesota - Twin Cities.
             
###
Pictured above (l-r) are CMU mechanical engineering majors Laura Laham, Anisha Vyas and Andre Sutanto.