January 26, 2013
News Brief: MCS Postdoctoral Fellow Dahlia Haynes to Appear on UNCF An Evening of Stars
By Jocelyn Duffy jhduffy(through)cmu.edu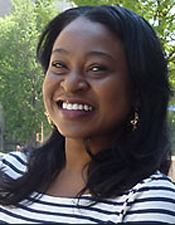 Dahlia Haynes, a postdoctoral research fellow in the
department of chemistry
, will be recognized as a rising star on the
34th Annual UNCF An Evening of Stars
. The nationally televised variety show is scheduled to air at 10 pm EST, Sunday Jan. 27 on BET, and on other channels Saturday, Jan. 26 (check local listings for stations and times). The program aims to focus public attention on America's need for more African American college graduates and UNCF's work getting students to and through college. UNCF An Evening of Stars has raised more than $200 million since its inception to help hundreds of thousands of students attend college and graduate.
A native of Brooklyn, NY, Haynes is a 2012 recipient of a
UNCF-Merck Postdoctoral Science Research Fellowship
, which supports African American post-graduate students during their postdoctoral training. She conducts research on conjugated polymer synthesis and self-assembly processes in photovoltaics and field effect transistors for organic based electronics.
This year's UNCF Evening of Stars will be hosted by actor-comedian Anthony Anderson, and will feature performances and appearances by entertainers Usher, Chaka Khan, Yolanda Adams, Charlie Wilson, Keyshia Cole, Trey Songz, Tyrese Gibson, Melanie Fiona, Eric Benet, Tracee Ellis Ross, Keenan Ivory Wayans and many more.