Wednesday, May 2, 2012
MCS Postdoctoral Fellow and Ph.D. student Receive UNCF-Merck Fellowships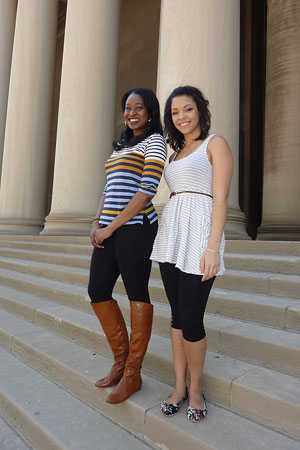 Dahlia Haynes and Elizabeth Ransey
Dahlia Haynes, a post-doctoral research associate in the department of chemistry, and Elizabeth Ransey, a doctoral student in the department of biological sciences, have received fellowships from the UNCF-Merck Science Initiative. The prestigious UNCF-Merck fellowships are given to approximately 10 post-docs and 12 doctoral students nationwide each year. 
Haynes received the UNCF-Merck Postdoctoral Science Research Fellowship, which supports African American post-graduate students during their postdoctoral training. Her research focuses on conjugated polymer synthesis and self-assembly processes in photovoltaics and field effect transistors for organic based electronics. Haynes has worked in the lab of Rick McCullough, Vice President for Research and Lord Professor of Chemistry at CMU and will be pursuing a career in academia. 
A native of Brooklyn, NY, Haynes completed her doctoral work at Clemson University.
Ransey received the UNCF-Merck Graduate Science Research Dissertation fellowship, which supports African American graduate students as they complete their coursework, conduct research and prepare their dissertation. Currently in the second year of her doctoral work in the lab of Biological Sciences Assistant Professor Mark Macbeth, Ransey is attempting to determine the structure of the RNA lariat debranching enzyme (Dbr1p) using x-ray crystallography and characterize several of its mechanistic properties. Dbr1p plays a critical role in the intron degradation pathway, the replication of vital components of DNA and RNA called retrotransposons, and the replication of retroviruses, including HIV-1.
A native of Toledo, Ohio, Ransey completed her undergraduate work at the Rochester Institute of Technology. 
Both Haynes and Ransey will receive a generous stipend and grant to cover their research expenses and travel costs to attend scientific meetings. They will also be mentored by a Merck Scientist and have the chance to network with other fellows at "Fellows Day" held at the Merck Research Laboratories in Blue Bell, Pa.
By: Jocelyn Duffy, jhduffy@andrew.cmu.edu, 412-268-9982