January 14, 2013
Press Release: Carnegie Mellon School of Art's Spring Lecture Series Features Artistic Pioneers and Emerging Stars Across Disciplines
Contacts: Lauren Goshinski / School of Art / 412-268-1533 / laurengo@andrew.cmu.edu
Pam Wigley / Media Relations / 412-889-6238 / pwigley@andrew.cmu.edu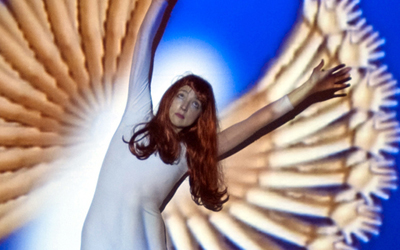 PITTSBURGH—Carnegie Mellon University's School of Art's Spring 2013 Lecture Series features internationally acclaimed artists whose work spans a variety of approaches to performance, sculpture, video, film and photography.
Speakers are Shana Moulton, Charles Atlas, Tehching Hseih, Diana Al-Hadid, Otto Peine, Carrie Mae Weems, Pyuupiru and Allan Sekula.
All lectures are free and open to the public at 5 p.m. Tuesdays at the Kresge Theater in the College of Fine Arts building. Changes to the schedule will be posted at www.cmu.edu/art/lectures. Questions about the series can be directed to 412.268.2409 or laurengo@andrew.cmu.edu. The schedule and artist bios follow.

Feb. 5
Carnegie Mellon School of Art alumna Shana Moulton's (MFA '04) video and performance work presents evocative, oblique narratives that combine an unsettling, wry humor with a low-tech Pop sensibility. Navigating the enigmatic and possibly magical properties of her home decor, Moulton initiates relationships with objects and consumer products that are at once banal and uncanny. She is the recipient of many awards, including the highly sought-after 2013 Creative Capital Grant.

Feb. 12
Charles Atlas has been an active filmmaker and video artist since the 1970s and has produced pioneering media/dance work, multi-channel video installations, feature-length documentaries, and video art works for television and live electronic performances.
     
Feb. 19
The first distinguished Jeff Pan Visiting Artist is Tehching Hsieh, an artist whose physically and mentally demanding durational performances made him a regular name in the art scene from 1978-99 with his "One Year Performance" series. Intentionally retreating from the art world with his last two series, Hseih set a tone of sustained invisibility through 2000 with his "Thirteen Year Plan." Since re-emerging in the early 2000s, he has lectured and exhibited worldwide.

Feb. 26
Syrian-born artist Diana Al-Hadid builds sculptures from crude materials such as plaster, Styrofoam, wax and cardboard — taking "towers" as their central theme — and drawing together a variety of associations of power, wealth, technological and urban development, progress and globalism. A young artist relatively new to the art world, she has received a USA Rockefeller Fellowship, several grants, and has an upcoming two-person exhibition with Medardo Rosso during the 2013 Venice Biennale.

March 5
The distinguished Lepper Lecturer is Otto Piene, a German artist who co-founded the Night Exhibitions in the 1950s and the resulting international Group Zero, which spread throughout the world, including New York City, and advanced light art, kinetic art and notably "SKY ART." He became a professor at MIT and director of the MIT CAVS, where he co-founded the MIT MSVisS graduate program and directed five International SKY ART conferences.

March 26
Carrie Mae Weems has developed a complex body of work during the past 25 years that employs photographs, text, fabric, audio, digital images, installation and video that investigates family relationships, gender roles, the histories of racism, sexism, class and various political systems. Her major retrospective, "Carrie Mae Weems: Three Decades of Photography and Video," currently is on view at The Frist Center for Visual Arts, Nashville, and will travel to the Portland Art Museum, Cleveland Museum of Art, Cantor Center for Visual Arts at Stanford University, and the Guggenheim Museum in New York. A new video, "Lincoln, Lonnie and Me—A Story in 5 Parts," also is on view at the Mattress Factory, Pittsburgh.

April 2
The second distinguished Jeff Pan Visiting Artist, Pyuupiru, is a Tokyo-based multimedia and performance artist who works in art direction, character and costume design, acting and writing. Her artwork is characterized by its process — absorbing opposing concepts such as "life and death," "men and women," "one and other" — and assimilating these ideas through her own personal experiences.
April 9
The Orville M. Winsand Lecturer, Allan Sekula, is an historian, critic, artist and professor in photography and media at California Institute of the Arts, who uses photography to create exhibitions, books and films that are an ongoing critique of contemporary capitalism. His film, "The Forgotten Space" (co-directed with Noël Burch), comments on containerization, invisible labor and the seagoing global supply chain, and won the Jury Prize at the 2010 Venice Film Festival. This talk is co-presented with the University of Pittsburgh Department of Art, Art History & Architecture.
This year's program is enriched by two related talks. CMU's School of Design Lecture Series, "Design the Future," and the School of Architecture's  "[En]Coding Architecture" Symposium  present "Interactive Art, Computational Design, Critical Making" with CMU Professor of Electronic Media and Director of the Frank-Ratchye STUDIO for Creative Inquiry Golan Levin on Thursday, Feb. 7. The Guerilla Girls will be at the Carnegie Museum of Art on Wednesday, March 20.

###
Pictured above is CMU alumna Shane Moulton's performance titled "Body Divided by Mind Plus 7 Equals Spirit."