February 26, 2013
Press Release: Carnegie Mellon's Sheng Shen Earns NSF Career Award For Work To Improve Thermal Transport and Management
He is Developing Tools To Aid the Electronics, Aerospace and Automotive Industries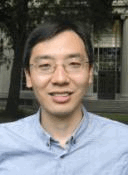 Contact: Chriss Swaney / 412-268-5776 / swaney@andrew.cmu.edu
PITTSBURGH—Carnegie Mellon University's Sheng Shen has received the National Science Foundation Early Career Development Award, its most prestigious award for junior faculty.
Shen, an assistant professor of mechanical engineering, was awarded a five-year, $400,000 grant to understand and improve thermal transport nanostructures, which can be highly beneficial to the electronics and energy industries.
"This grant will help me develop tools to improve thermal transport and management so essential to improving performance of computer processors now burdened by higher heat loads as users demand faster and faster operating speeds," Shen said.
Shen said his work could potentially overcome some of the challenges facing thermal management systems where traditional approaches to improving performance have added expenses and management headaches.
Thermal transport and management is used widely in the electronics, aerospace and automotive industries to reduce heat backup and static charges.
Shen will integrate his research and education through interactive educational kits and new courses. The courses will be designed to introduce graduate and undergraduate students to basic principles of energy conversion and the latest research results in thermal transport.
Shen's research interests include nanoscale thermal transport and energy conversion, and their applications in solar or thermal energy conversion, thermal management. "We are also looking for new nanostructure materials that may one day resolve thermal management challenges in industrial processes," he said.
A pioneering researcher, Shen is the recipient of the 2010 Philomathia Foundation Research Fellowship in Alternative Energy Research at the University of California, Berkley. He also was the recipient of the Hewlett-Packard Best Paper Award of the American Society of Mechanical Engineers (ASME) Heat Transfer Division in 2008.
Shen received his bachelor's and master's degrees in 2000 from the Power Engineering Department of Huazhang University of Science and Technology in China. He obtained his Ph.D. in mechanical engineering at the Massachusetts Institute of Technology (MIT) in 2010.
###
Pictured above is Sheng Shen, CMU's assistant professor of mechanical engineering.