April 02, 2013
Press Release: Carnegie Mellon's Chien Ho Awarded Gold Medal From International Society for Magnetic Resonance in Medicine
Contact:
Jocelyn Duffy / 412-268-9982 /
jhduffy@andrew.cmu.edu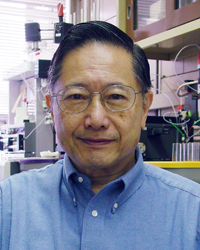 PITTSBURGH-For his major research contributions to the field of magnetic resonance in biomedical sciences,
Chien Ho
, the Alumni Professor of Biological Sciences in Carnegie Mellon University's
Mellon College of Science
and director of the
Pittsburgh NMR Center for Biomedical Research
, has been awarded the 2013 Gold Medal of the
International Society for Magnetic Resonance in Medicine
(ISMRM).
Ho is being recognized for his pioneering role in the area of
cell tracking
using magnetic resonance imaging (MRI). The work of Ho's laboratory has laid the foundation for much of the prolific research being done in the field today.
The ISMRM is a multidisciplinary nonprofit association that promotes the innovation, development and application of magnetic resonance techniques in medicine and biology throughout the world. Ho will receive the award on April 22 at the society's annual meeting in Salt Lake City. 
"It is exciting to see the biomedical community applying MRI-based cell tracking to important problems in biology and medicine," Ho said. "I am delighted that the ISMRM has chosen to award me with this Gold Medal, but I must share it with the former and present students, postdoctoral fellows and colleagues that I have worked with in the Pittsburgh NMR Center."
Ho's laboratory was the first to use endocytosis - the process by which a cell takes up a molecule by engulfing it through its membrane - as a way to label cells. They used this technique to introduce iron-oxide nanoparticles into cells. The nanoparticles act as an MRI contrast agent, allowing researchers to track the movement of the labeled cells in vivo. Using this technique, Ho's group was the first to demonstrate that these labeled cells could be tracked to disease-specific tissue sites using MRI in a living animal. His studies also were the first to show that MRI had a high enough sensitivity to track individual cells in a live animal.
Ho and his colleagues are
applying this technique to the detection of organ transplant rejection
. They are developing a multifaceted MRI strategy that uses cell tracking to detect immune responses and monitor changes in organ anatomy and function at the same time. The data can reveal the early stages of graft rejection in kidney, lung and heart transplant models.
The work by Ho and his colleagues has contributed to numerous advances in biology and clinical medicine, including using MRI cell tracking to investigate pre-clinical models of disease and to monitor new cell-based therapies. Additionally, Ho's techniques are being investigated as a way to guide stem cell therapies.
In addition to his work on cell tracking, Ho has extensively researched the allosteric mechanisms of hemoglobin, an essential protein in vertebrates, using biochemical, biophysical and magnetic resonance techniques.
Ho earned his bachelor's degree from Williams College and doctoral degree from Yale University. After completing his postdoctoral training at the Massachusetts Institute of Technology, Ho took a faculty position in the University of Pittsburgh's Department of Biophysics. In 1979, he joined Carnegie Mellon as professor and head of the
Biological Sciences Department
. In 1985, he stepped down as department head and founded the Pittsburgh NMR Center for Biomedical Research, a joint program between Carnegie Mellon and the University of Pittsburgh. The multidisciplinary Pittsburgh NMR Center is funded by the National Institute of Biomedical Imaging and Bioengineering, one of the National Institutes of Health.
Ho is a fellow of the John Simon Guggenheim Memorial Foundation, the International Society of Magnetic Resonance and the American Association for the Advancement of Science. He is an academician of Academia Sinica.
###

Pictured above is Chien Ho, the Alumni Professor of Biological Sciences in Carnegie Mellon University's Mellon College of Science and director of the Pittsburgh NMR Center for Biomedical Research, who has been awarded the 2013 Gold Medal of the International Society for Magnetic Resonance in Medicine.