June 13, 2012
News Brief: Prestigious Swiss Fellowship Awarded to Lane Center's Cheemeng Tan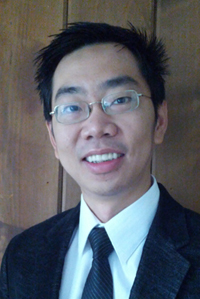 A researcher at Carnegie Mellon University's
Lane Center for Computational Biology
is one of eight promising young scientists this year, and the first ever from CMU, to win a prestigious international fellowship by the Zurich-based Society in Science.
The Branco Weiss Fellowship awarded to Cheemeng Tan, a Lane Fellow at CMU, will help support his research into the use of artificial, man-made cells to stop the spread of drug-resistant infections. The fellowship, overseen by the Swiss Federal Institute of Technology in Zurich, offers a generous personal grant for up to five years to researchers who have recently earned their Ph.D.s.
"This award is a confirmation of the excellence that led to Cheemeng being chosen by our faculty as a Lane Fellow," said Robert F. Murphy, director of the Lane Center for Computational Biology at CMU and a professor of
biological sciences
,
biomedical engineering
and
machine learning
. "We look forward to his important future contributions."
Tan, who joined the Lane Center in 2010 after completing his Ph.D. in biomedical engineering at Duke University, works in the emerging field of synthetic biology, a relatively new field that combines techniques of biology, physics and engineering. Researchers focus on the design and construction of cells that can mimic or alter existing biological processes to prevent the spread of diseases, fight infections and counteract genetic abnormalities. Synthetic biology has shown promise for applications in the treatment of cancer, synthesis of anti-malaria drugs and production of biofuels.
Tan's work includes creating computational models that both guide experiments and predict the behavior of synthetic cells. His current research focuses on the predictive engineering of artificial cells and bringing new insights into the application of computational algorithms to synthetic biology.
"By integrating both computational and synthetic biology, I believe that my current project could create a new frontier of artificial cells in synthetic biology," Tan said.
His current work is directed toward new therapeutic treatments for bacterial infections, which is becoming a global health concern due to the rise of antibiotic-resistant bacteria. New antibiotics can encounter resistant bacteria in as short as three years. In Europe alone, resistant bacteria have caused 25,000 deaths and 2.5 million additional days of hospitalization.
To tackle this global issue, Tan is working to create artificial cells that could inhibit pathogen growth and slow the spread of drug-resistant bacteria. Funding from the Branco Weiss Fellowship will support Tan's efforts to construct artificial cells for therapeutic treatment using synthetic biology.
"His work will have a tremendous impact and help people around the world," said Philip LeDuc, CMU professor of
mechanical engineering
and founding director of the university's
Center for the Mechanics and Engineering of Cellular Systems
. LeDuc serves as an adviser to Tan along with Russell Schwartz, professor of biological sciences and computer science and co-director of the Lane Center's Ph.D. program.
"The diverse international group of researchers from which he was selected corroborates the importance of his exciting work that merges the interdisciplinary areas of synthetic biology and artificial cells," LeDuc said.
Tan currently serves as an adviser in the first CMU International Genetically Engineered Machine (iGEM) competition to identify and train the next generation of synthetic biologists. He intends to use his fellowship in part to help instill a commitment to social responsibility into the researchers he will be training.
Tan's work is multi-disciplinary, combining both computational and synthetic biology approaches, and includes collaborations with CMU's departments of
Biological Sciences
,
Chemistry
and
Physics
. "Carnegie Mellon University provides a unique and friendly collaborative environment that would strongly facilitate this project on artificial cells," Tan said.
A native of Malaysia, Tan holds a master's degree in high-performance computing from Singapore-MIT Alliance and a Ph.D. in biomedical engineering from Duke University. In 2011, he was among the top 25 finalists for an NIH Director's Early Independence Award from the National Institutes of Health.
The Branco Weiss Fellowship is named for the late Branco Weiss, Swiss technology entrepreneur and philanthropist. The fellowship provides a unique platform for young researchers to pursue their own research while they also address specific social issues. Applicants need to demonstrate exceptional research achievement and independence, and be prepared to look beyond their own scientific goals.
###