July 26, 2012
Press Release: Carnegie Mellon Senior Awarded Prestigious Pickering Fellowship
U.S. State Department Program Supports Preparation of Future Foreign Service Officers
Contact:
Shilo Rea / 412-268-6094 /
shilo@cmu.edu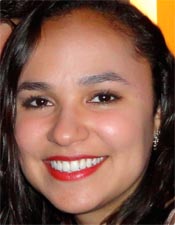 PITTSBURGH—Carnegie Mellon University senior Ema D. Woodward has been awarded a prestigious
Thomas R. Pickering Foreign Affairs Fellowship
. The fellowships, administered by the
Woodrow Wilson National Fellowship Foundation
for the
U.S. Department of State
, aim to develop a source of well-prepared men and women whose academic backgrounds fulfill the skill needs of the State Department and who are dedicated to representing America's interests abroad. Woodward is the first Carnegie Mellon student to receive this fellowship.
One of 40 students selected, Woodward, a Carlisle, Mass. native, will receive financial support toward tuition and other expenses during her senior year and first year of graduate school. She also will participate in two paid internships, one domestic and one overseas.
Following the fellowship program, Woodward will be committed to serving three years as a
U.S. Foreign Service Officer
, a corps of working professionals who support U.S. foreign policy around the world. Students are chosen for the fellowships based on demonstrated dedication, integrity, cultural adaptability, communication skills and thorough intellectual background that is required to become a Foreign Service Officer.
"The Pickering Scholarship is a terrific opportunity, but it is not for everyone," said
Stephanie Wallach
, assistant vice provost for undergraduate education and director of the
Fellowships and Scholarships Office
(FSO). "Ema is an unusually good fit with this award — she is knowledgeable about Foreign Service and understands what a public service career will demand of her. Her success in this enterprise speaks not only to the significant strengths of her application but also to the support of many members on our campus, such as Judith Schachter, Holly Hippensteel, Emily Half, Sarah Belousov and Kendra Gaither, a Pickering alumna."
A
Global Studies
major within CMU's
Dietrich College of Humanities and Social Sciences
, Woodward applied for the fellowship to help tackle the world's current prevalent issues. "When I hear about what's going on in the world - the violence in Syria, the Euro crisis, the continued search for peace in the Middle East - I want to be part of the solution," she said.
Woodward, who admires Condoleezza Rice and Hilary Clinton for their foreign policy work, hopes that through the fellowship she can help the U.S. better understand other cultures and vice versa. She credits her time at Carnegie Mellon and year abroad studying in France with preparing her for international service work.
"I find CMU to be a very international campus, in the way that we have so many countries represented at our school, but also in how we have an important presence outside of Pittsburgh," she said. "I have learned to appreciate other cultures even more, and the excellent faculty have helped me in language acquisition, study abroad and by offering the Global Studies major. All of these things no doubt helped me to be selected as a fellow."
The Thomas R. Pickering Foreign Affairs Fellowship Program is named in honor of one of the most distinguished American diplomats of the latter half of the 20th century. Ambassador Pickering holds the rank of career ambassador, the highest rank in U.S. Foreign Service, after serving as ambassador to Nigeria, El Salvador, Israel, India and the Russian Federation before finishing his career as the Undersecretary of State for Political Affairs.
###
Pictured above is senior Ema D. Woodward, who has been awarded a prestigious Thomas R. Pickering Foreign Affairs Fellowship.