January 25, 2012
Press Release: Carnegie Mellon Mechanical Engineering Students Win Communitas Award for Food Fundraiser
Contact: Chriss Swaney / 412-268-5776 / swaney@andrew.cmu.edu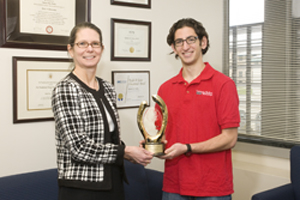 PITTSBURGH—Carnegie Mellon University's Society of Automotive Engineers (SAE) Race Team has received a Communitas Award for collecting food and donating homemade recipes in brightly designed cookbooks to the Greater Pittsburgh Community Food Bank.
"This is a great honor for us as we strive to expand our educational experience to serve the community," said SAE team leader Mike Ornstein, a junior mechanical engineering major from Hopewell, N.J.
The SAE Race Team won the award in the special event category for "Racing Against Hunger."
Communitas awards, supported by the Association of Marketing and Communication Professionals, recognize exceptional organizations, businesses and individuals that give unselfishly to benefit their communities. Award participants range from Fortune 500 companies to nonprofits and entrepreneurial startups.
"We are so very proud of our students and faculty who support this environment of creative achievement which fosters partnerships with a variety of charities and community organizations," said Nadine Aubry, the Raymond J. Lane Distinguished Professor and head of the Mechanical Engineering Department at Carnegie Mellon. "Our students have very demanding schedules, but many take the time to share their leadership and creativity in community projects. We applaud them for this," she said.
The team also enlisted the help of the H.J. Heinz Company, which donated its Heinz 57 sauce to celebrate the racecar's number 57, and to help mark the brand's 100th anniversary. Other food contributors included the Oakmont Bakery, The Frick Park Market in Point Breeze and Ruggeri's Food Deli in Squirrel Hill.
"We were so pleased that Heinz helped us because our team car this season drew the competitive racing number 57," said John Wiss, an adjunct professor of mechanical engineering at CMU. "This award shows that our students are extremely dedicated to helping the community in novel ways. We tied our efforts into the national USA Weekend's "Make a Difference Day" last October and we certainly made a difference," Wiss said.
The event also featured a racing demo and a bagpipe parade. For more information about the 2011 Communitas Award winners, go to: www.communitasawards.com.
     
            
###
Pictured above are Nadine Aubry and Mike Ornstein with the Communitas Award.